Today is our 8th Anniversary, and in the spirit of nostalgia, I figured it was time to go through more "Bonus Features"-ish unreleased material from The Hundreds' history. Here are 10 behind-the-scenes tales from our past, most of which have never seen the light of day.. until now. (In case you haven't read the earlier ones, here are 18 Things You Didn't Know About The Hundreds and 8 MORE Things You Didn't Know…)
1. By now, you should be familiar with our Invisible Crew campaign from the Summer 2006 line. We were a smaller company at the time, just the 5 of us, and the last thing we could afford were professional models. Our only choice was to use ourselves, but we didn't want to be seen (nevermind the fact that we're not great to look at). So the solution was simple, how about subtracting us from the equation?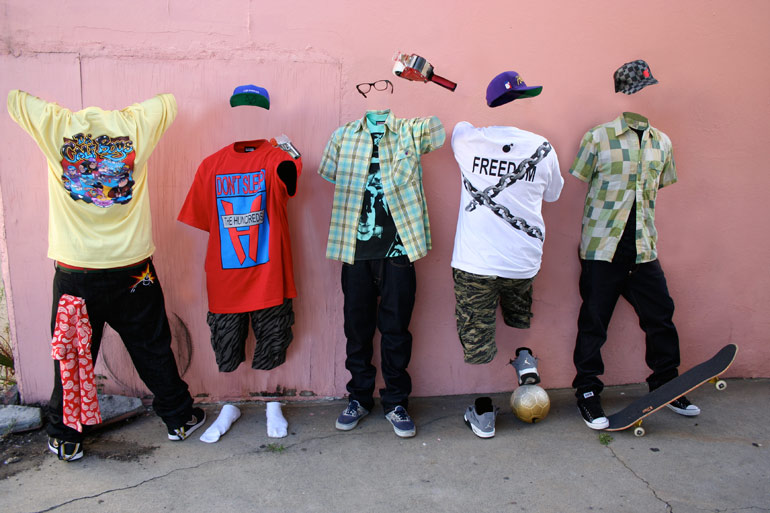 For the first time ever, here are the base shots I ended up Photoshopping to get the final results. Nothing a little tripod and some clever staging couldn't handle.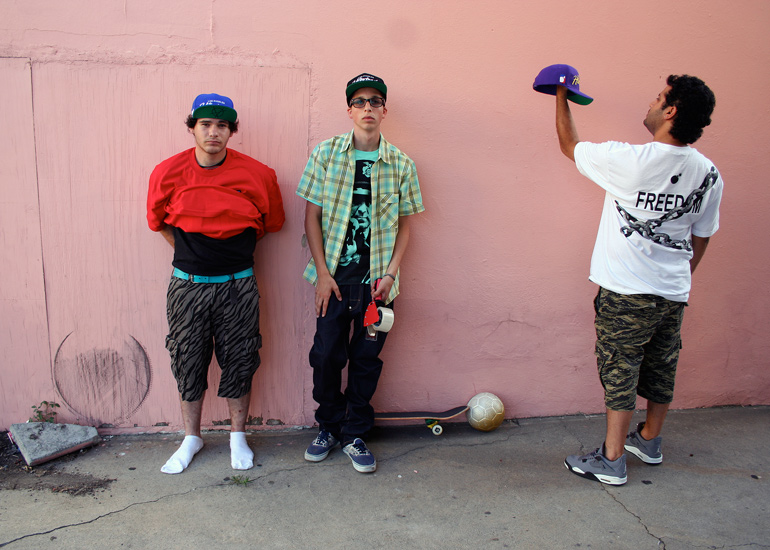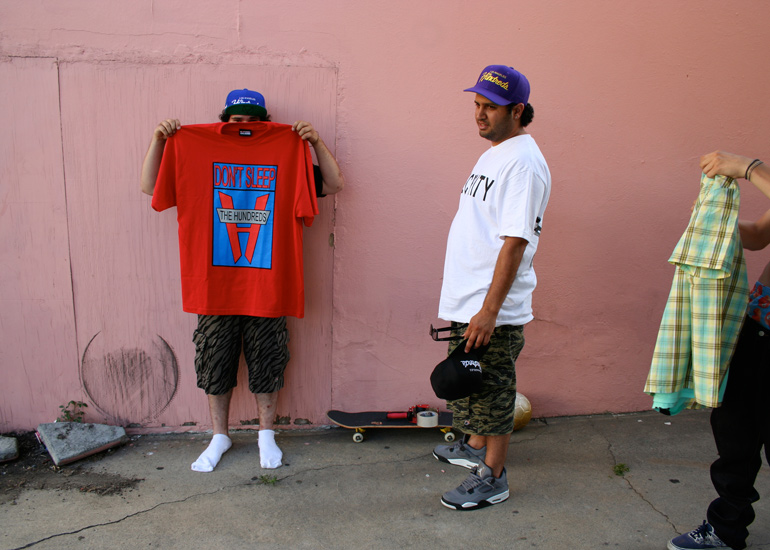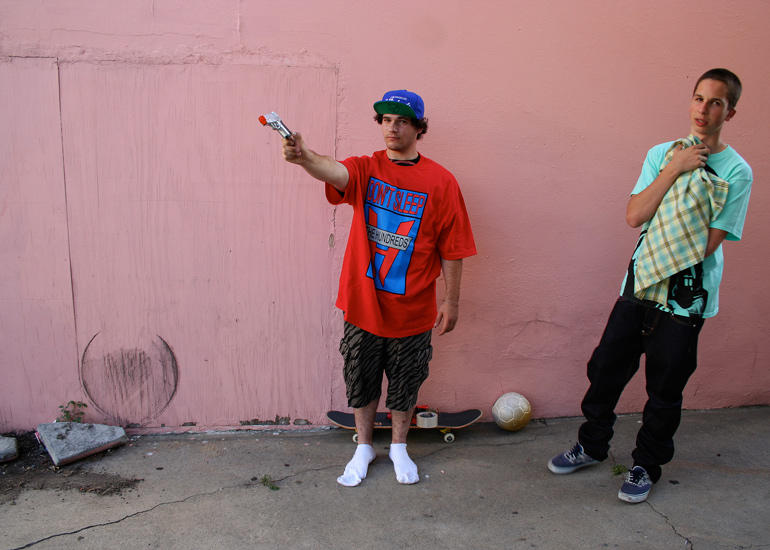 Isn't it great how creative you can get when you have nothing at all?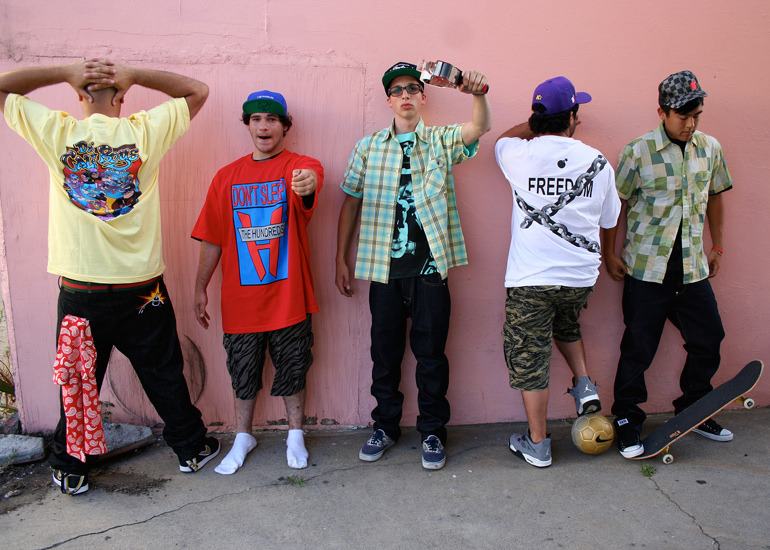 2. Since the beginning of the brand, our business cards for The Hundreds' staff have mimicked Pantone chips. Every employee gets to choose their own colors, some of which are represented here. Some of the guys get creative with theirs, Scotty has a pentagram UV-coated over his, and Pat's red/white combo is an homage to his homebase, Canada.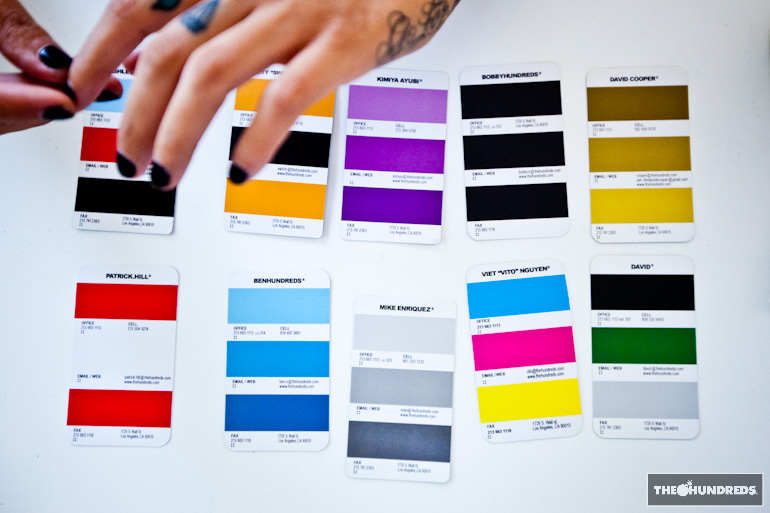 3. I blogged not too long ago about the Black Adam t-shirt and how it's our rarest tee ever offered. And if it weren't for an astute fan who tweeted me, I would've completely overlooked our VOTE OR DIE t-shirt from 2004. We were nearing the political season and Ben and I wanted to encourage our supporters to get out there and participate. The initial idea for this graphic was inspired by the adage SKATE OR DIE. As soon as we had started printing, however, Puff Daddy (as we were still calling him at the time) unveiled a nationwide apparel campaign himself, with all sorts of celebrities wearing graphic t-shirts emblazoned with the words… VOTE OR DIE! We immediately stopped production on our tees, but 36 had already been printed. So we put 'em up on the website the same day, sold through them as a limited-edition run, crossed our fingers no one would think we bit Mr. Combs, and then George W. Bush beat Kerry. (Maybe we shoulda just maintained?)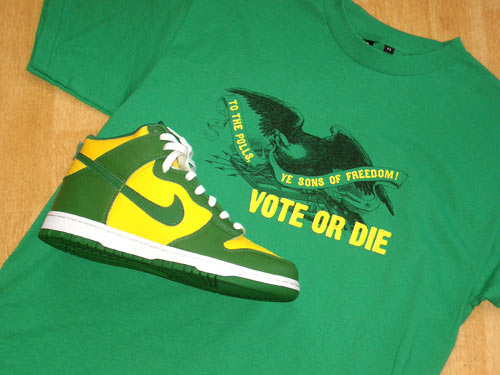 4. Most people remember TENS, our first official women's sub-label under The Hundreds, but they may have forgotten our first real foray into women's streetwear, Brown Babies. We ghost-designed and operated this L.A. label that was centered around a collective of like-minded minority girls – and the response was wildfire across the country. This t-shirt was the first graphic out of the BB$ camp, and then a fuller line followed, but the crew eventually dissolved, and Brown Babie$ was gone as soon as it had happened.
A couple of the girls went on to start a popular blog about boobs, and back in January they did a retrospective and reunification on the BB$ camp. Check it out HERE.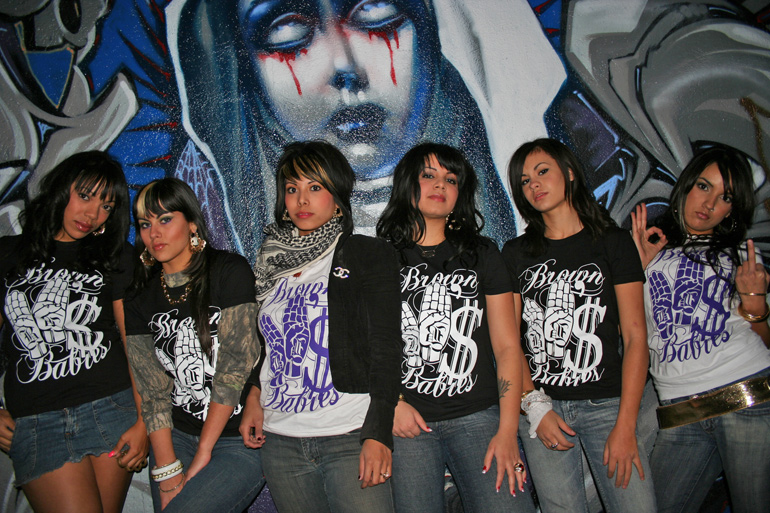 5. One of the first t-shirts from our first line was the "Mic" tee. The concept was that you could be looking up at the man with the microphone, or down on him, all depending on your perspective. It was a metaphor for social hierarchy and worldviews that probably every single person who bought the shirt didn't get, but whatever.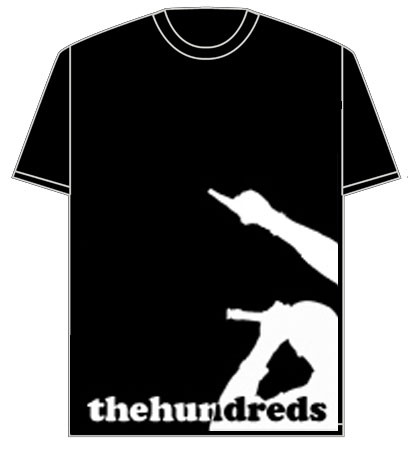 I had actually traced the silhouette from a live photo I'd shot of Slick Rick years earlier.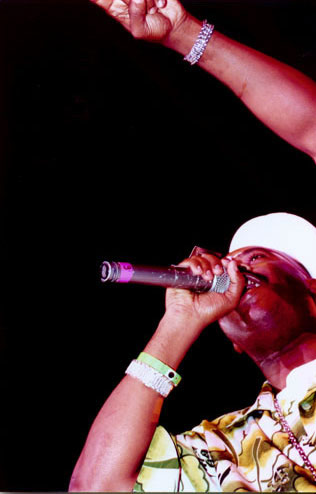 6. For years, Ben and I did our best to not show our faces. Not on some Deadmau5, The Weeknd tip, but because we have really dumb faces. This was our first media shot and it was for an article written on us by Beinghunted. We posed for this in front of Staples Center (and the Han Solo'd Magic Johnson). The world immediately assumed that Ben was black and I was a blonde white kid. Awesome.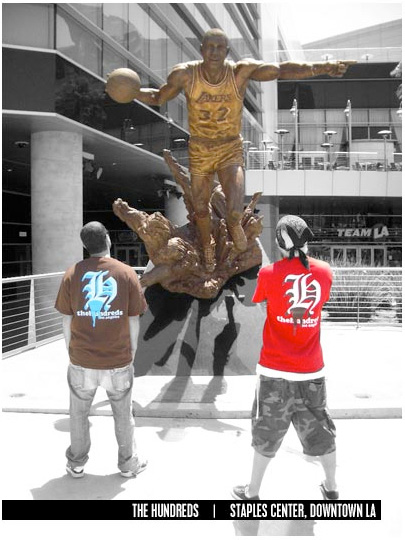 7. Everyone probably remembers the Crooks & Castles x The Hundreds collaboration t-shirt we offered at The Hundreds LA's opening?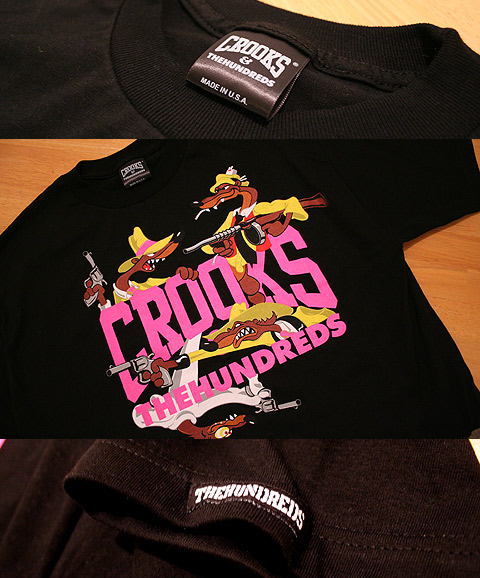 Well, I had originally drawn up a back graphic for the t-shirt as well. Obviously the characters are the weasels from Roger Rabbit and my favorite dude was the looney guy. So he was hanging around, upside-down on the back of the shirt, having blasted bulletholes through the tee. But being that this was a collaboration, Dennis and the Crooks dudes felt both a front and back graphic was a little overwhelming, so we nixed the rear shot. For the first time ever, here it is: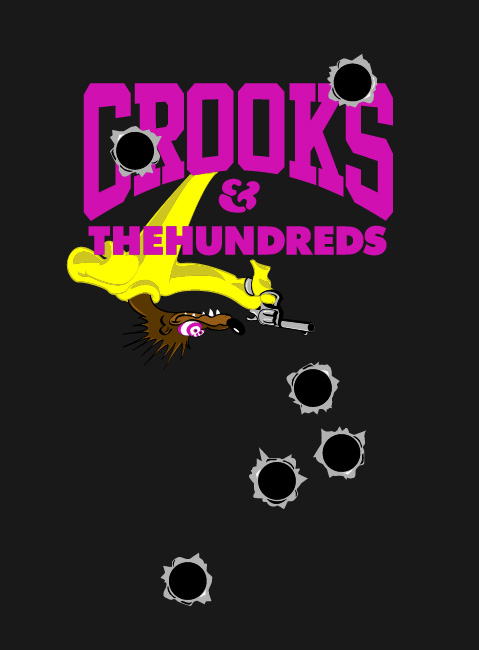 8. The first official The Hundreds party we threw was at Brooklyn Projects, and it was calledCircle.Ben and I curated a group art show with some of our friends and favorite artists of the time, many who went on to become pretty huge in the last 8 years: Mike Giant, Buff Monster, Craola, Logan Hicks, and Deph to name a few.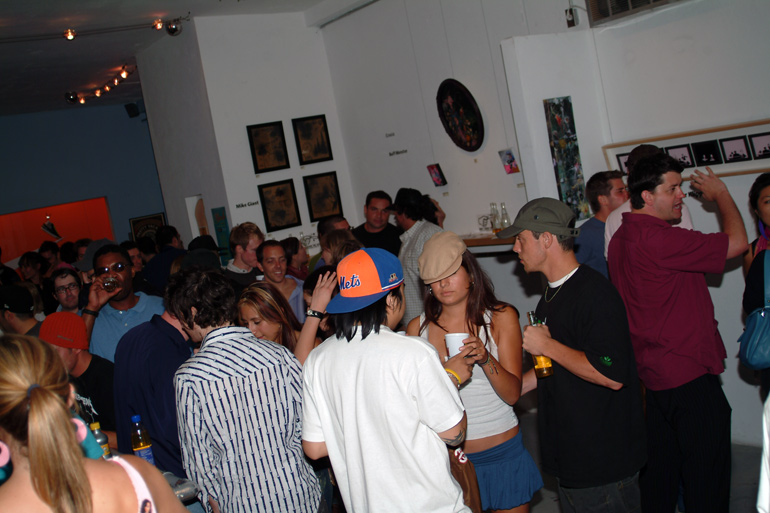 9. Speaking of BP, our very first collaboration was with the Melrose-based skate shop. Considering Dom was from New York and we were L.A., we worked on a tee pitting our 2 hometown heroes against each other. And how about that snap-back? Ripped straight off Eazy-E's COMPTON cap.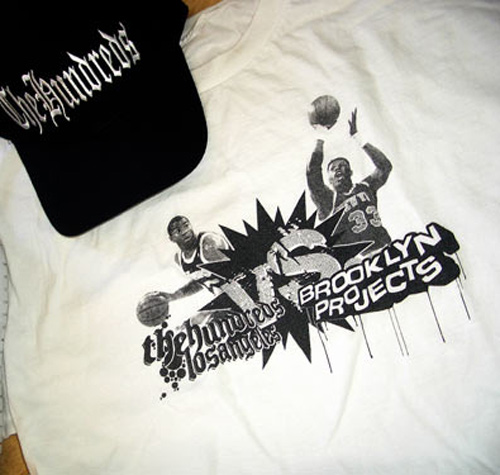 10. And speaking of collaborations, out of the few that have actually published over the brand's life, there have been plenty more that have never come to fruition. Like, for instance, The Hundreds x Animaniacs. We worked on this project for years, had the entire collection designed and ready for production, when we pulled the plug at the eleventh hour over differences with Warner Bros. Bummer…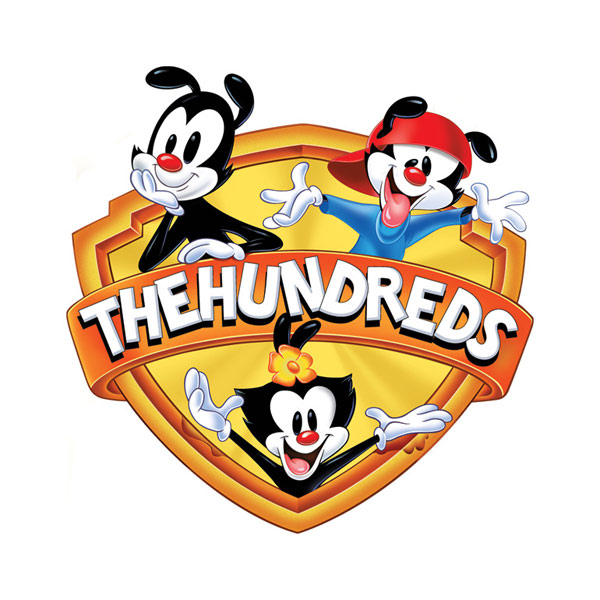 by bobbyhundreds