If there were such a thing as a "Mt. Rushmore of hip-hop items," the throwback jersey would rest alongside things like gold ropes, Kangol hats, and four finger rings as pieces which would become synonymous with the art form during the mid-'90s and into the new Millennium. While the latter all have ties to b-boy culture from the '80s and have a decidedly "street" sensibility to them, throwback jerseys seemed like the sort of trend that was conjured up in a recording studio late at night by a rapper who wanted to see just how much influence he had on the world. On a personal level, I like to imagine it was Jay Z turning to Dame Dash and saying, "I'm about to make Kelly Tripucka a muthafuckin' star!" If you're asking, "who's Kelly Tripucka?," that's exactly what others were thinking when a slew of his number "4" Utah Jazz jersey started showing up in rap videos nearly 10 years after he retired after a modest NBA career.
Philadelphia-based retailer Mitchell & Ness was the outfitter who led the nostalgic charge—relying on vintage aesthetics, superstars of yesteryear, and retro color palettes to entice a new generation to learn their history so they weren't doomed to repeat it.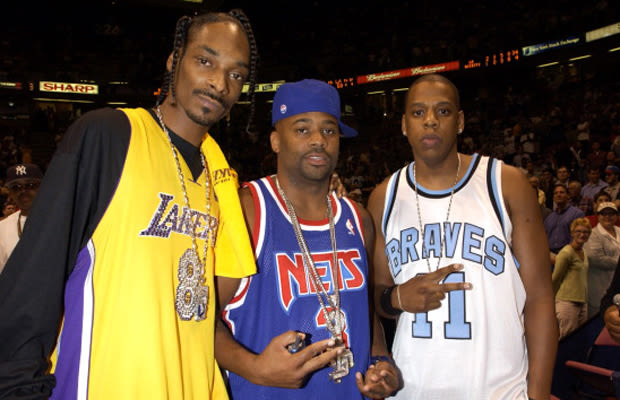 Snoop Dogg, Dame Dash, and Jay Z rocking the throwback jerseys during the trend's golden years. Photo: complex.com
In 1904, Frank P. Mitchell, a former wrestling and tennis champ, partnered with Scottish golfer, Charles M. Ness, to form a sporting goods store on Arch St. in Philadelphia. While they initially specialized in the tangible items a person needed to play sports—like rackets and clubs—by 1925 they found themselves in the business of outfitting local high school, college, and semi-professional teams with uniforms.
Eight years later, the company received their first big break when they were selected by the newly formed Philadelphia Eagles to enter the professional marketplace. Drawing inspiration from the Blue Eagle insignia of the National Recovery Administration—the centerpiece of President Franklin D. Roosevelt's New Deal—Mitchell & Ness had cleared their first major hurdle as a brand.
"The moment I put them in the store, I said let's keep on trying this until it dies."
Soon after they penetrated the NFL market, Mitchell & Ness continued their success in the professional realm by expanding into major league baseball, providing the uniforms for the Philadelphia Athletics in 1938 and the Philadelphia Phillies two years later.
During Mitchell & Ness' entire tenure as a brand, they employed an Italian immigrant, Sisto Capolino, who had found initial work with them as a stockboy. By 1955, Capolino took over ownership and brought his son, Peter, on board to help with the day to day.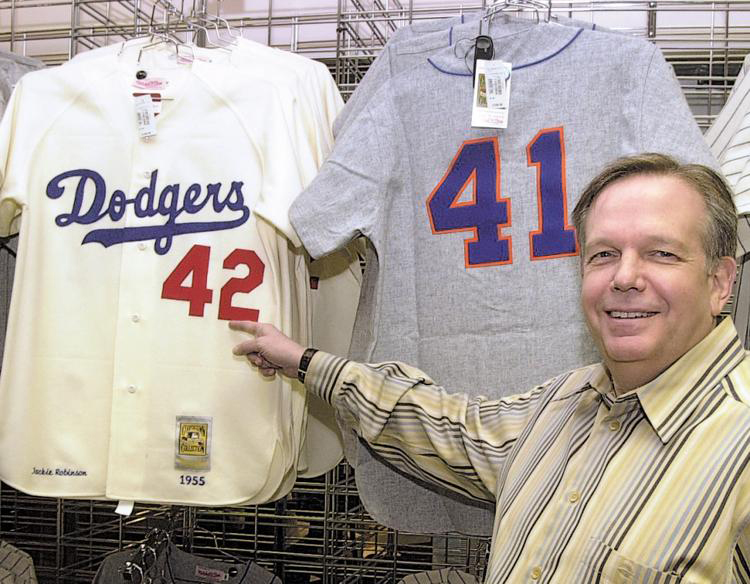 Peter Capolino, the son of Sisto Capolino, who took on ownership of Mitchell & Ness in 1955 after years of working as a stockboy. Photo: bizjournal.com
In the late 1970s, Mitchell & Ness dropped their burgeoning team business to instead concentrate on its retail operation which had continued to be their bread and butter. In turn, the store became a leading outlet for field hockey equipment and ski gear. By the time the 1980s rolled around, Mitchell and Ness was nearly bankrupt, and Peter Capollino was left scrambling as to how to steer the ship.
According to Philly.com, "In 1983, Capolino was browsing through this factory in the 1300 block of Noble, when he came across 12,000 yards of flannel. The old wool had been hanging around since 1970, when baseball dumped baggy, heavy flannel uniforms and switched to lightweight nylon double-knits. In 1986, Capolino made six old 1957 Pittsburgh Pirate sleeveless shirts just because he had an original Dale Long shirt to work from. The replicas flew out of the stores at $100 apiece, and the former philosophy major knew he was on to something."
"The moment I put them in the store, I said let's keep on trying this until it dies," he said. In his wildest imagination, Capolino couldn't have anticipated who would actually embrace his throwback jerseys and make them into a genuine fashion phenomenon. "I figured my market was 35- to-75-year-old conservative, college-educated, suburban white men," Capolino told CNN.
One of the first major co-signs Mitchell & Ness' jerseys got in the hip-hop community was from OutKast in their 1998 video, "Skew It on the Bar-B," in which Big Boi can be seen wearing a throwback Dale Murphy jersey from the Atlanta Braves throughout—as well as additional throwback offerings in the liner notes for their album, Aquemini.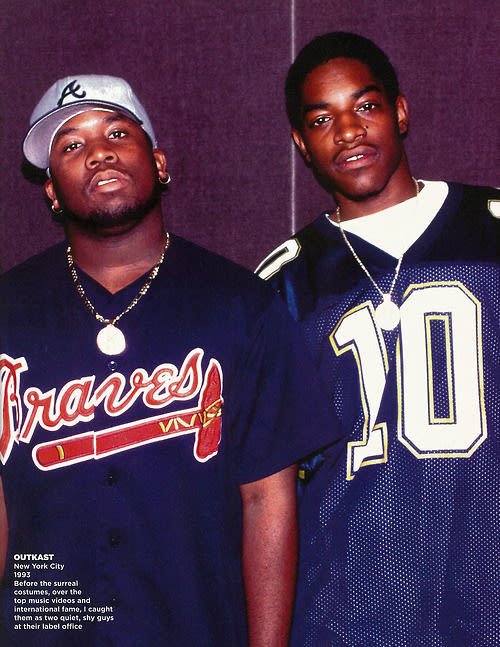 Big Boi and Andre 3000 of Outkast wearing throwback jerseys in 1993. Photo: complex.com
According to a 2003 Associated Press story, "Mitchell & Ness didn't take off until 'Big Rube (Reuben Harley),' a 6-foot-2, 325-pound African-American man from West Philadelphia, offered his services to Capolino. 'He told me I didn't know what I had,' Capolino said. Reuben Harley had been shopping at Mitchell & Ness for Negro League baseball caps and retro jerseys for a decade before he came to Capolino with an idea to market the jerseys in April 2001. Harley thought there would be a market for Capolino's jerseys in the hip-hop world.
Harley points to Sean "Diddy" Combs' hosting gig at the January 2002 American Music Awards—in which he wore a throwback Philadelphia Phillies jacket and a Hank Aaron Jersey—as a major turning point for Mitchell & Ness and its acceptance in the urban community.
Additionally, Jay Z wore throwbacks on stage during the Hard Knock Life tour and a 1947 Washington Redskins jersey of Hall of Fame quarterback Sammy Baugh as well as a 1982 San Diego Padres jersey in his "Girls, Girls, Girls" video.
While musicians were one of the first groups in popular culture to adopt the trend, athletes themselves were also quick to jump aboard the trip down memory lane. Notable examples include Allen Iverson's 1999 edition of Slam magazine where he appears in a 1966-67 road 76ers jersey sporting a massive afro and prominent gold chain.
In 1999, Mitchell & Ness had sales of $2.2 million USD. By 2002, they made $25 million USD. "We're projecting over $40 million in sales in 2003," Capolino told AP.
That same year, the popularity almost cost LeBron James his eligibility for his final year of high school at St. Vincent-St. Mary. According to ESPN, "Just a few days after James was cleared of any wrongdoing for accepting a sports utility vehicle as a gift, Ohio high school officials are reviewing a report the St. Vincent-St. Mary senior received complimentary clothing. After attending a local high school game last weekend, James and some friends visited the clothing store 'Next,' where he picked out two jerseys—one of Chicago Bears Hall of Famer Gale Sayers, the other of Washington Bullets center Wes Unseld. The Sayers jersey costs $395; the Unseld jersey, $450."
This left James' amateur status in question because, according to Ohio High School Athletic Association bylaws, an athlete forfeits his or her amateur status by "capitalizing on athletic fame by receiving money or gifts of monetary value." James appealed the ruling and his penalty was eventually dropped to a two-game suspension, allowing him to play the remainder of the year.
As fate would have it, throwback jerseys would also have a major impact on who LeBron James would sign as an agent when he turned pro. According to ThePostGame, "James, then 17 years old and on his way to the 2002 Final Four in Atlanta, sported a Michael Vick jersey for the trip. At the airport he noticed a man wearing an authentic Warren Moon throwback jersey along with white Air Force 1's. James was impressed.
James asked the man where he got the jersey and Rich Paul (his future agent), then 21, replied that he sold throwback jerseys out of the trunk of his car. The two exchanged contact information, and soon Paul hooked James up with a Magic Johnson Lakers jersey and a Joe Namath Rams uniform."
"If I don't have on that jersey, we don't have a conversation," Paul told Chris Broussard for a 2012 feature in ESPN The Magazine.
In 2007, the Sports Licensed Division (SLD), part of the adidas Group, announced it acquired Mitchell & Ness for an undisclosed price, saying, "this acquisition will enable us to strengthen and expand our relationships with sports fans collecting and wearing vintage, authentic professional and college sports apparel." At the time of the sale, Mitchell & Ness' catalog accounted for 1,600 authentic styles representing player jerseys, warm-ups and heavyweight jackets.
One perusal of the Mitchell & Ness jersey offerings today reveal a signature mixture of uniforms for established stars like Joe Montana, Nolan Ryan, Wayne Gretzky and Johnny Bench alongside jerseys that appeal to those wanting showcase vintage styles like a 1996 New England Patriots replica and 1984 Detroit Tigers batting practice jersey.
As USA Today noted, "That's the thing about sports jerseys: even the ugly ones were once someone's childhood obsession."
***