Hi "all," it me, your editor! Thanks for being here with us. I've been thinking a lot about a few things in reflecting back on the year:
1. The McQueen documentary. Seeing it at the Hollywood Arclight on a Friday night in mid-2018 changed me. So much of it has stayed with me since—how Alexander McQueen's extremely emotional interiority transfigured into this absolutely potent and beautiful outward expression. I think it's on Amazon Prime now, so please watch it with the volume way up for Michael Nyman's soundtrack.
Your interiority—your truth—is fuel.
2. "You get over imposter syndrome by always being a fan." I've been obsessed with this quote from Tara Aquino's recent interview with Mike Cherman, founder of Chinatown Market, for our blog. I think it speaks volumes about the potential of creativity as a social, collective effort and reminds me of a recent Real Life mag piece on Oli Mould's Against Creativity that you should read.
Decenter yourself and be involved in your community—be a fan.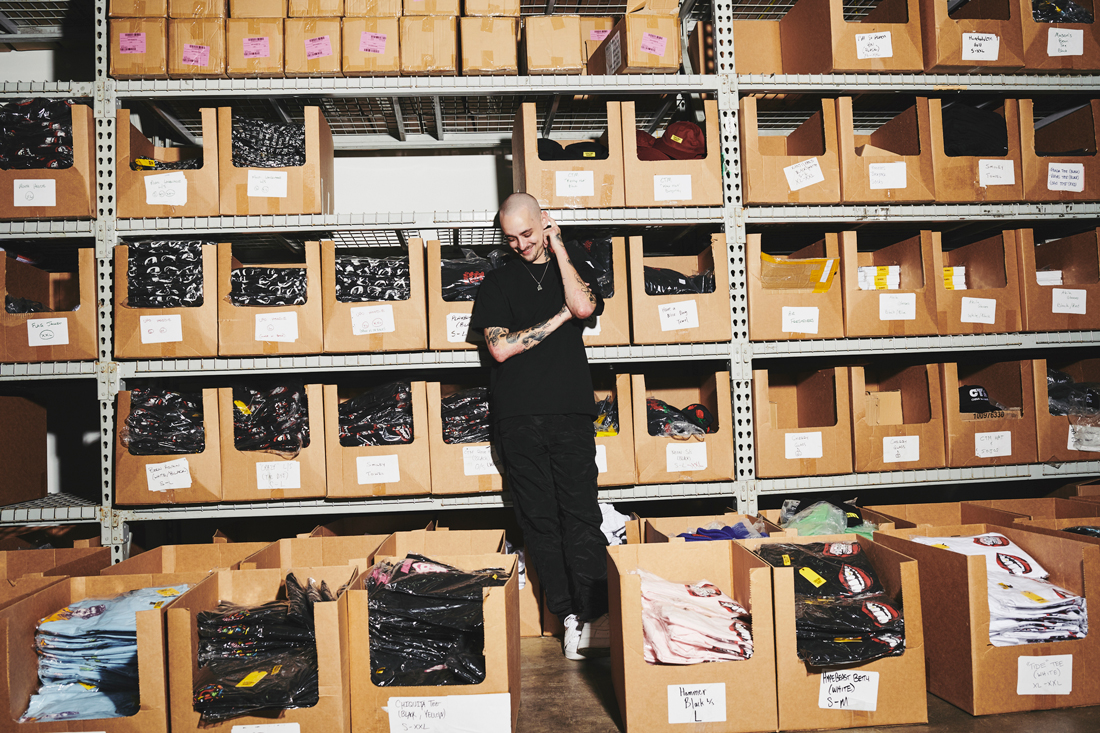 3. Writer Devin O'Neill's interview with Amoeba Music co-founder Marc Weinstein on how he created a cultural institution and not just a record store. Especially Devin's words describing our interview: "Amoeba is a bit of an enigma: a record store that still means something to people. Talking to Marc helped me understand how, in the 21st century, we might be able to create culture we actually want and enjoy instead of a bunch of 'successful' things that nobody cares about."
How do we prioritize and nurture (and create new) cultures rooted in human values and community?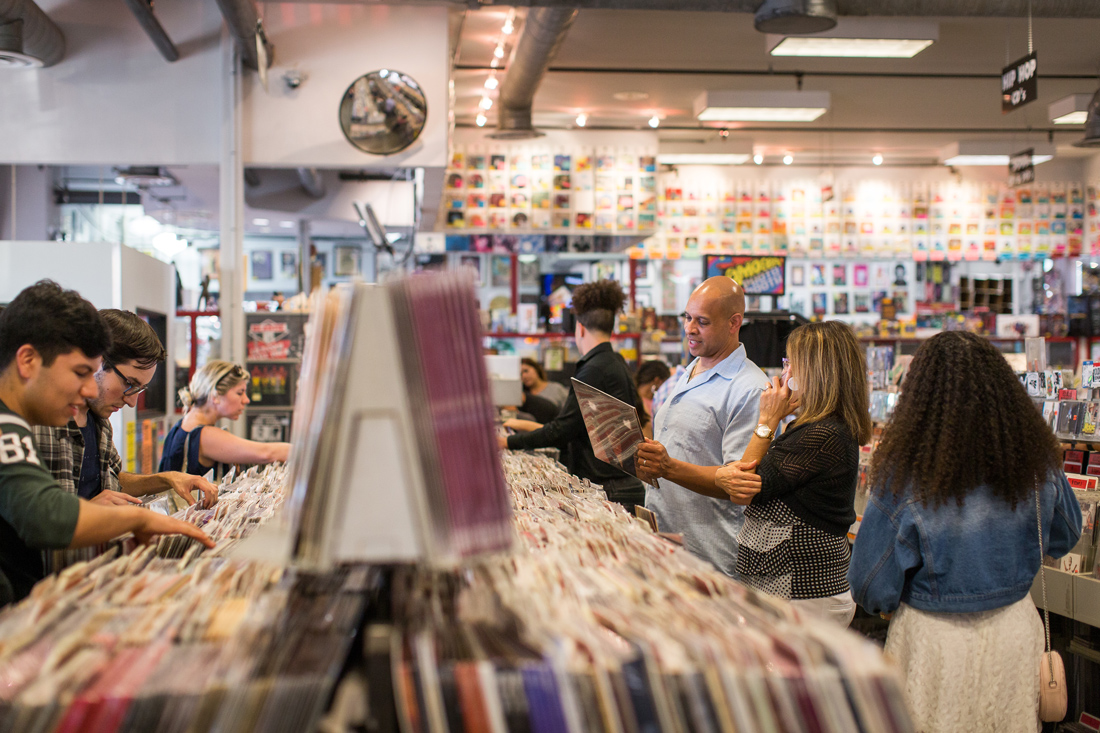 Just some thoughts as we move into this new year. I feel so much gratitude to the wonderful writers and photographers who have been so generous with their thoughts, feelings, and points of view to share on The Hundreds blog in 2018. (I didn't write one of these lists last year, but you can revisit the year-end review I did in 2016).
Below is a quick collection of a few of my favorite articles we published this year. I didn't include our end of year lists, but you need to check those out if you haven't. Here's to another year of uncovering new personal truths, community involvement, and hopefully a new honesty, vulnerability, and sincerity. Good luck!
A deeply moving interview by Bobby Hundreds with Nipsey Hussle about serving your community and staying consistent and authentic with your core. The two reunited 8 years after Bobby's 2010 blog post where Nipsey gave Bobby a tour of his Crenshaw.
"So the intention is, like, 'Are we trying to get bigger?' You always disappoint your core. When your intention is like, 'We're trying to continuously deliver on what the value is and what the promise is and what made us dope,' I think it just becomes really, really authentic and consistent. Something happens, like… an invisible line gets crossed, where your people are riding with you forever. They're like 'Nah, fuck that, I'm with this dude, I'm a part of this.'"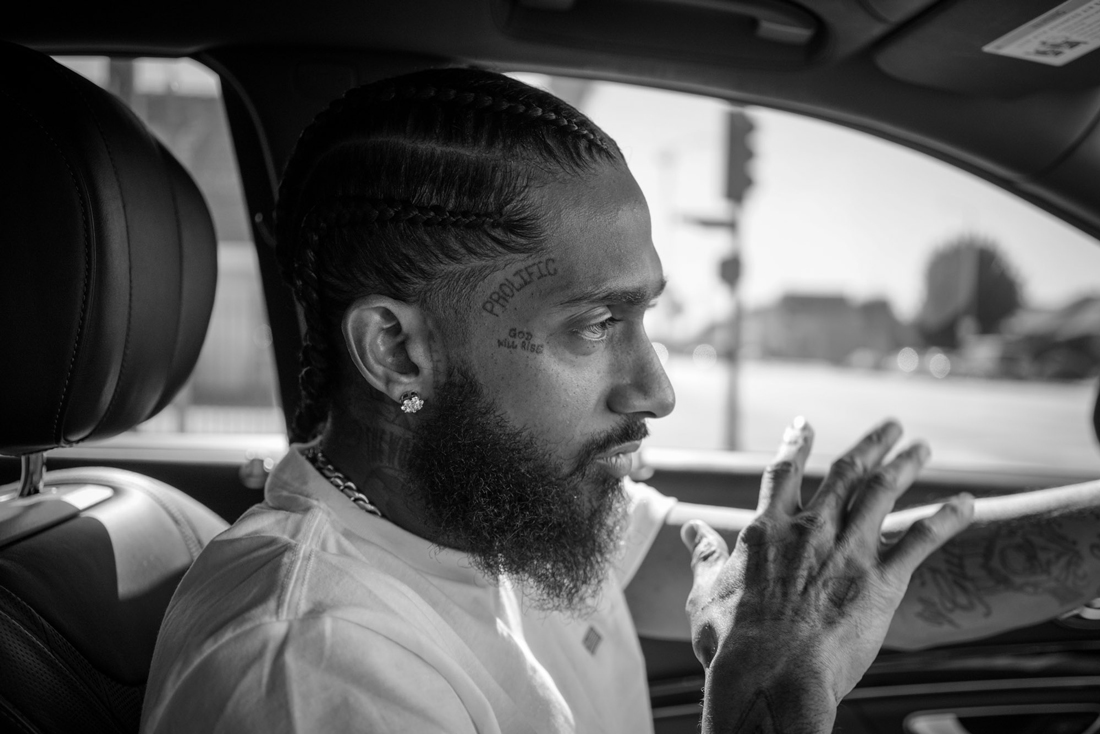 We set out to publish the definitive interview with Amoeba co-founder Marc Weinstein here, so of course I tapped Devin O'Neill, an Aries writer, artist, culture analyst I'm proud to call a close friend. I inherently knew that both Devin and Marc shared a personal philosophy that I think Marc himself outlined so perfectly: "I've never been about the money. I've always been about spreading the gospel of music and what it can mean for humanity."
Amoeba Music is a sacred place. And, as Devin writes, "If Amoeba Music is to survive, it may be a question of placing a dollar value on what Amoeba really is—a community of people focused on a musical experience, and not just a way to conduct transactions and sell media. We know the value of experiences—we'll pay for vacations and selfie museums—but paying into a community we all intend to share is shaky territory for a financially shell-shocked generation. Do we realize how much these kinds of communities pay us back?"
It's a must-read with beautiful photography by Paolo Fortades that we all felt truly captured Amoeba's magic, diversity, and most of all humanity.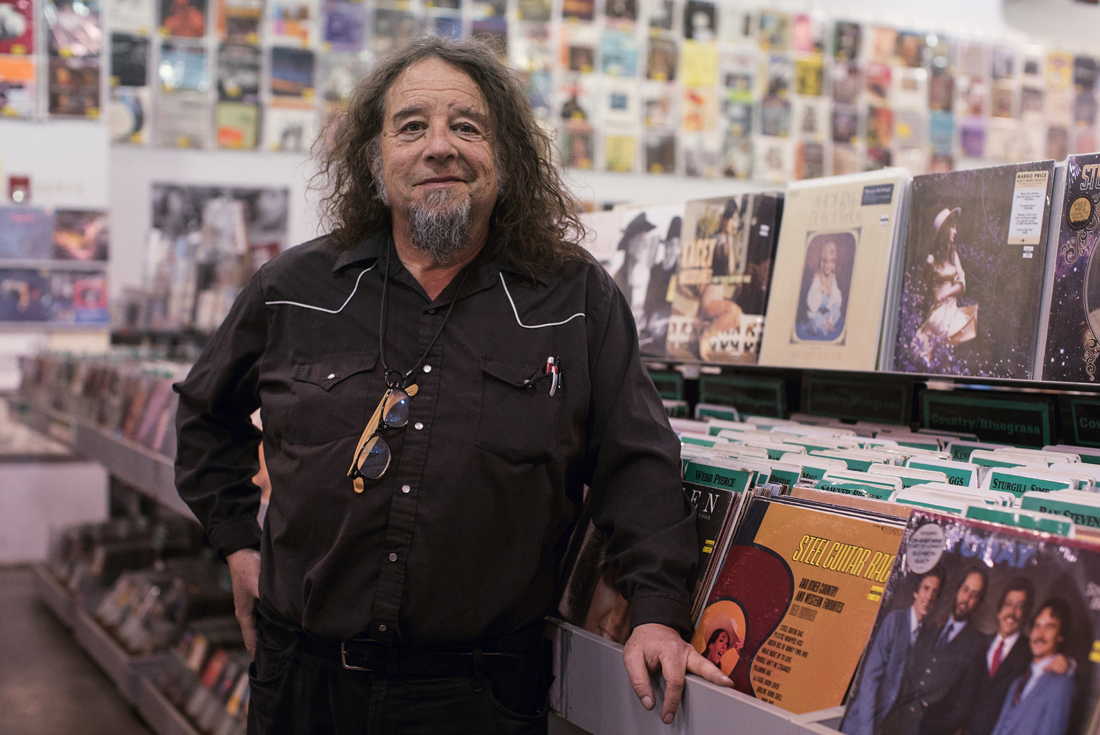 Writer/producer/empath/all around superstar Tara Aquino met up with Chinatown Market head Mike Cherman for this uber-enlightening interview that really resonated with our fans. I already mentioned the imposter syndrome quote above that's still stuck with me, but there's tons of gems in here about community-building, work ethic, and mentorship. Tara was able to pull out some truths from Mike that were totally surprising for us, and incredibly insightful. It was a joy to work with photographer Graham Walzer again as well, who clearly had a lot of fun shooting Mike at the Chinatown Market office, capturing some of my favorite editorial imagery on our site all year.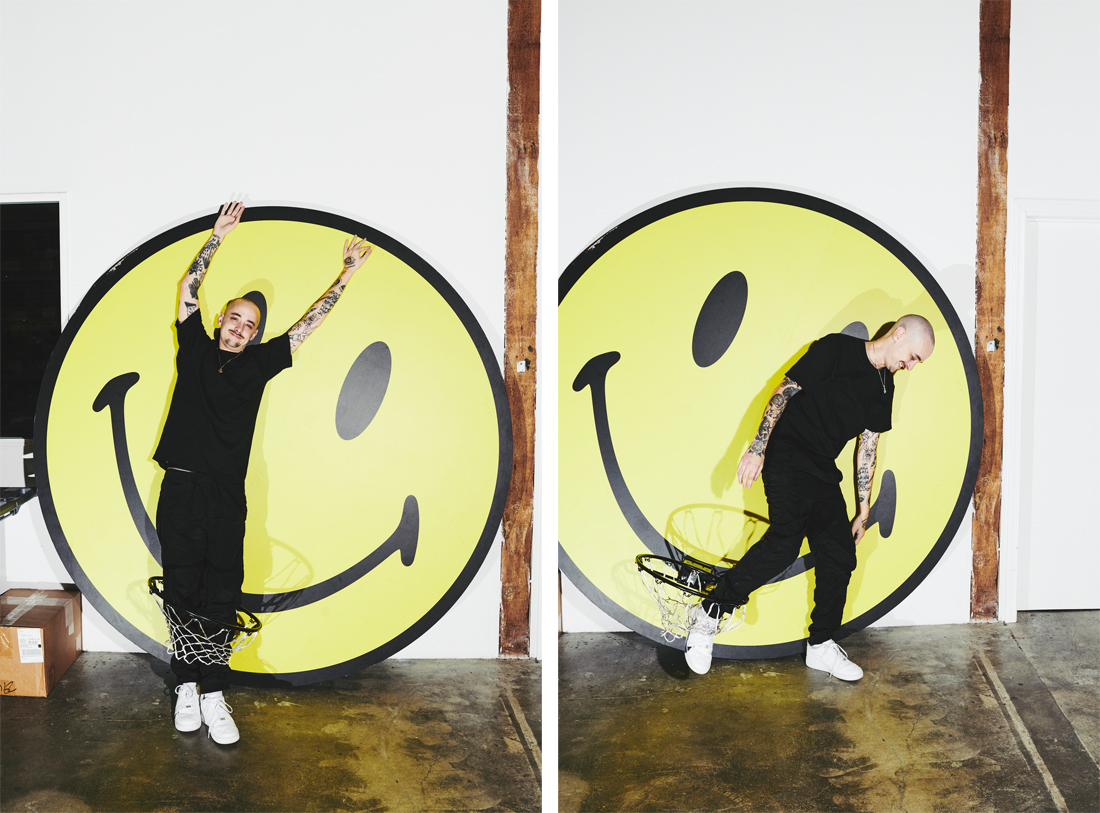 We kept talking about sad boy/sad girl youth culture, emo trap, zoomers, and what it's all really saying. We had conversations about this for months before Devin O'Neill and I began to work on this piece. He has said the way that we work together is like band practice, riffing off references and articles and quotes until he composes the first draft and we go back and forth until we're in a good place. It was one of our most-shared articles of the year, and Devin's first for The Hundreds, examining how "social media is simultaneously making us depressed… and making money off the creative products of our depression." My favorite article by far to kick-start a year with on our blog.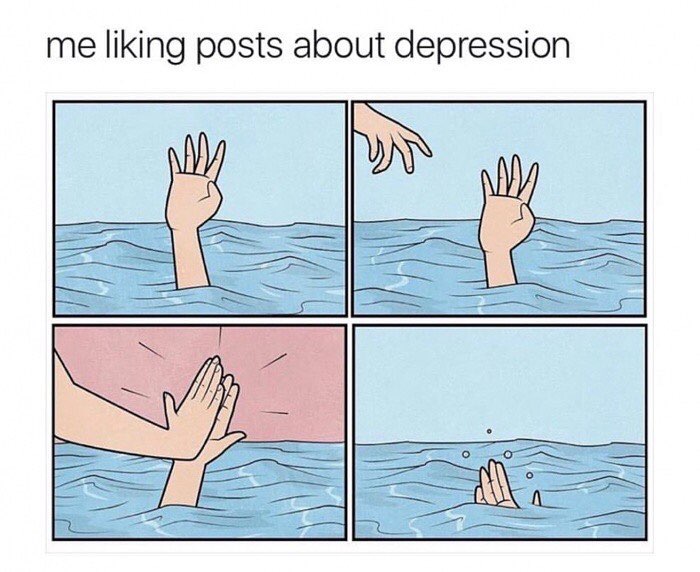 I loved the process of writing this profile on Mark Gainor, the mastermind behind No.One, a new footwear brand handcrafting sneakers the way cobblers have for hundreds of years, one at a time. Get this: No.One launched as a shoe brand with a carefully made literal hardcover book that wasn't even for sale. Why? Because Mark lives to do things differently—in this case, disrupt the footwear industry in his own way. Find out how his core design philosophy comes from a place of fantasy and fiction. Wonderful photos by Paolo Fortades, thank you Paolo!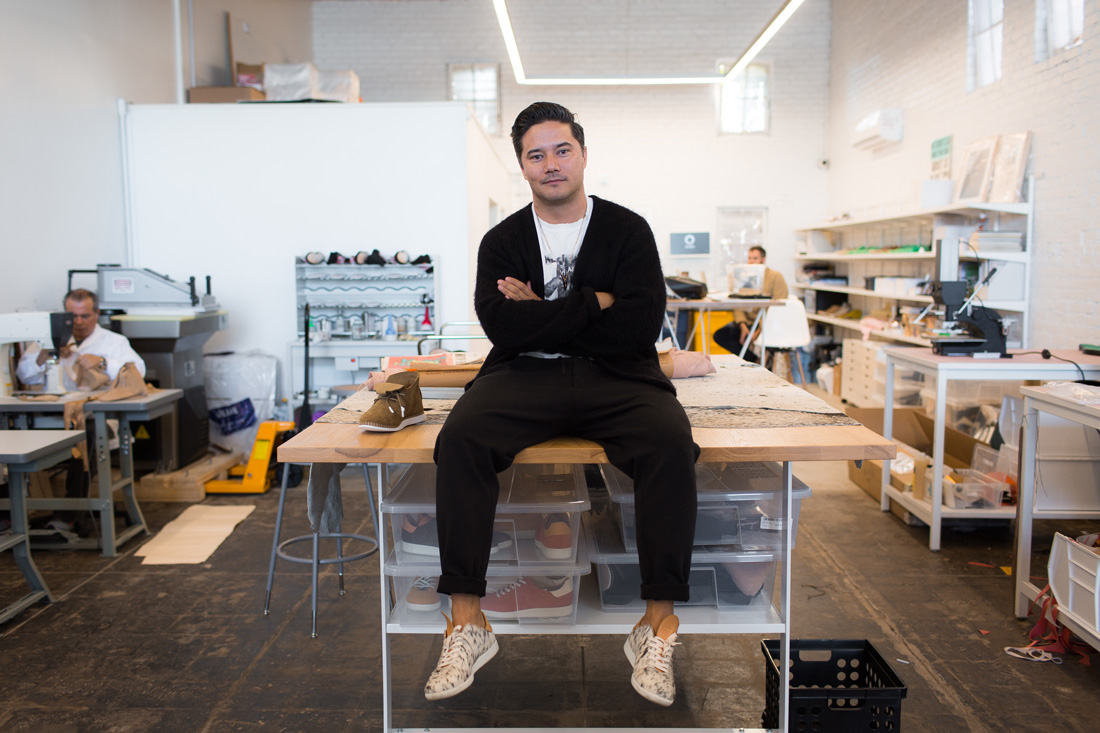 "[There's] an obvious void that I see and feel in surf. It's the presence and power of racial diversity." An editorialized version of Bobby's speech at the annual SIMA (Surf Industry Manufacturers Association) Summit, that was widely shared—and still talked about!—in the surf community and press.
A crucial, provocative must-read that I still can't believe was a speech given at SIMA… in front of a room likely lacking in the very diversity he spoke of. That takes real bravery.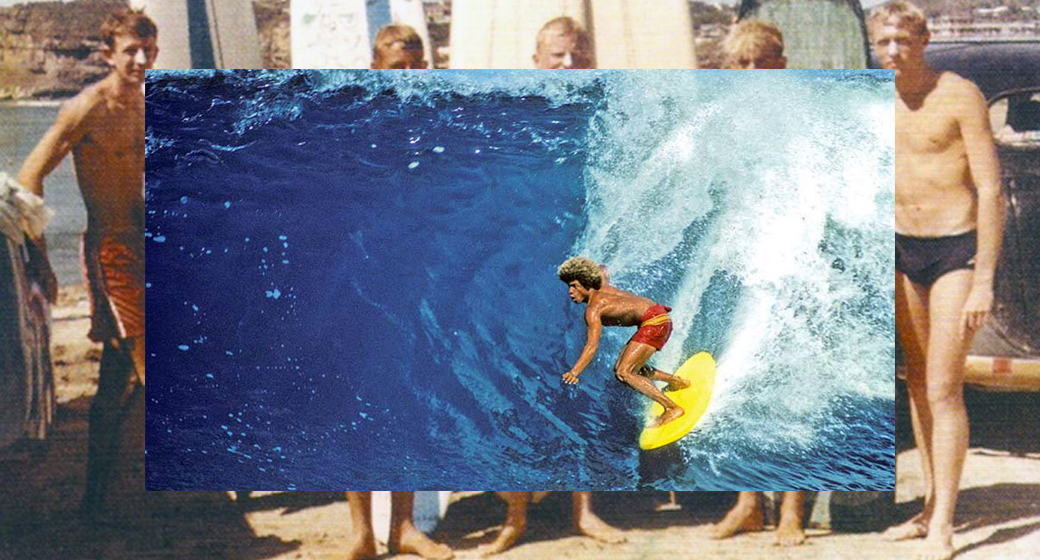 Stellar writer Anthony Pappalardo interviewed the real designer of the Osiris D3, Brian Reid, in a rare 'breaking' story for us. We published this in light of GQ's profile of A$AP Rocky claiming again that Dave Mayhew designed the D3 (complete with a cornball photo of them chilling together). It was so obviously a ploy by Rocky and Under Armour to collect a cosign for ripping off the phatty shoe in the first place! (Tbh Jenkem also interviewed Mayhew prior in 2015 under the misguided notion that he designed it as well, so it's not like the truth was out there).
Quite a few publications like Highsnobiety, Jenkem, Footwear News, etc. ended up talking to Brian after that, and after years of text and email tag with him on a homie basis discussing an interview, it felt great to be integral in finally setting the record straight with this solid story by Pappalardo. To me, there is no one like Brian—he is self-effacing, he is hilarious, he is humble and kind and I'm just glad he's getting his due.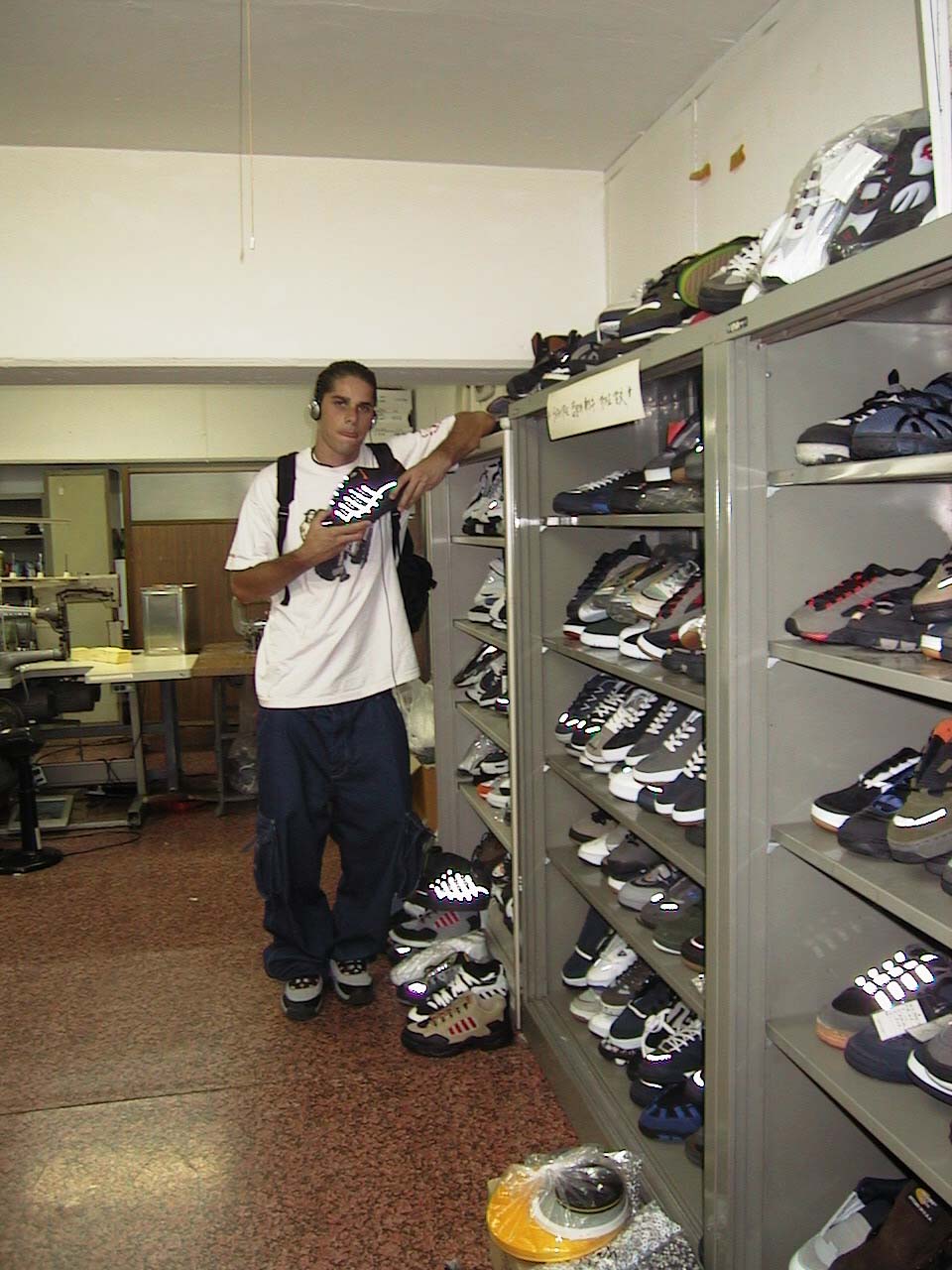 "Zines are a living archive that will probably long outlast digital ephemera. They are political tools that can be used for organizing, safety, political empowerment, and so much more," says Jonathan Valelly of Broken Pencil in this group interview by Alex Wong. He caught up with 7 culture-pushing modern-day zine makers to examine why zines are more than important than ever right now, highlighting some new favorites of mine.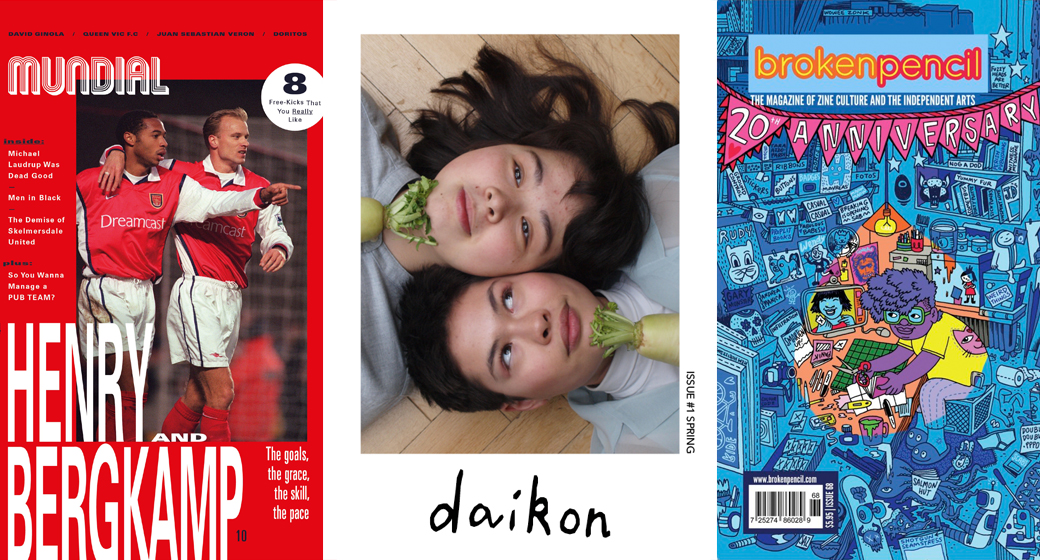 Leave it to Bobby Hundreds. He's the only person who could go to Fashion Week and write a blog recap full of insight, comparing fashion week, the world of high fashion, and our niche streetwear industry to Rocky Balboa and Apollo Creed. Yeah, it was actually also your first hint at our The Hundreds X Rocky collaboration, which dropped months later. Pretty brilliant, and always in it for the long game, that Bobby.
"High fashion and true streetwear circle each other like boxers in a ring, like a spinning yin-yang. They rip from one another and riff off each other, but they cannot live without the fight. Paris Fashion Week is the Main Event. The Virgil Ablohs and Mike Amiris keep the rest of us designers looking up and moving forward. Even if their design is amiss, their trajectory is something to marvel at and hope for. So that one day, the belt can change hands."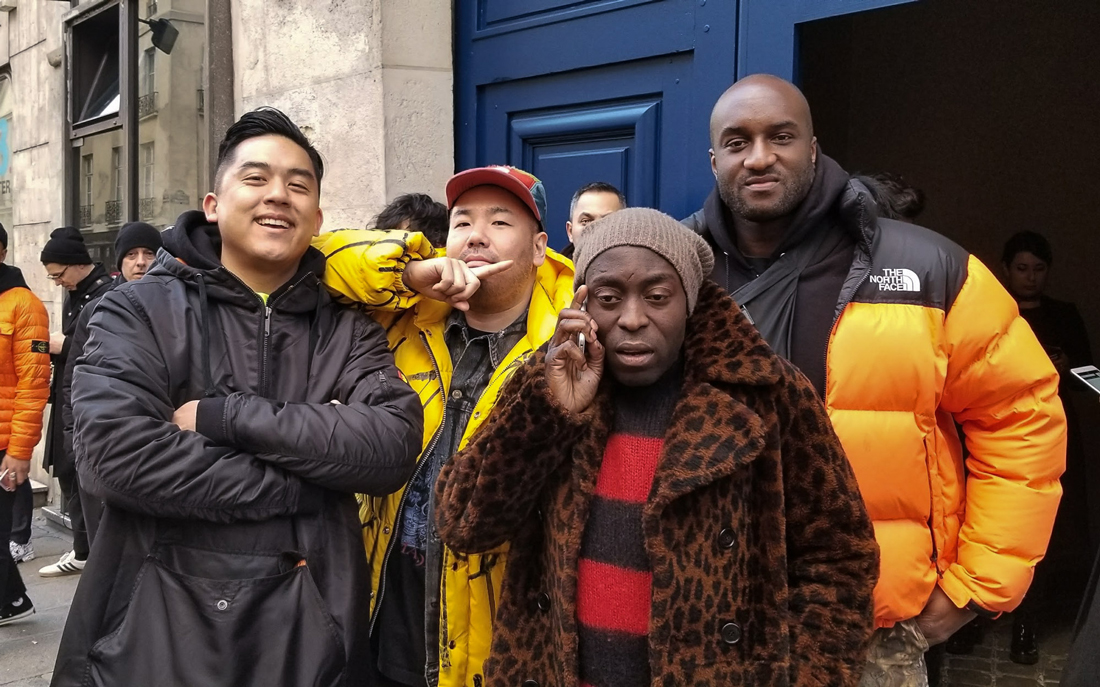 A heartwarming, moving profile by writer (and my former wonderful assistant editor) Kat Thompson about that pet store right around the corner from RSWD on Fairfax with the funny name. That's the one, Bark n' Bitches. Reading it always makes me cry lol. The woman behind the shop is a daring rulebreaker and community leader named Shannon, who opened the first and only humane pet store in Los Angeles. It's not just a pet store, it's a community center where kids from Fairfax High and people like Joyce Wrice congregate to help these animals. It's a place of love-giving and love-receiving. Thank you, Shannon.
I like to ask Nathanael Turner to shoot when it comes to stories like this—because he is a deeply empathetic person, and it's evident in his photography; he spent a few hours in the busy pet shop and took wonderful photos to accompany the piece. Kat Thompson was the perfect person to write this, too, as a complete and total pet lover and a writer full of feels. Thanks guys!!!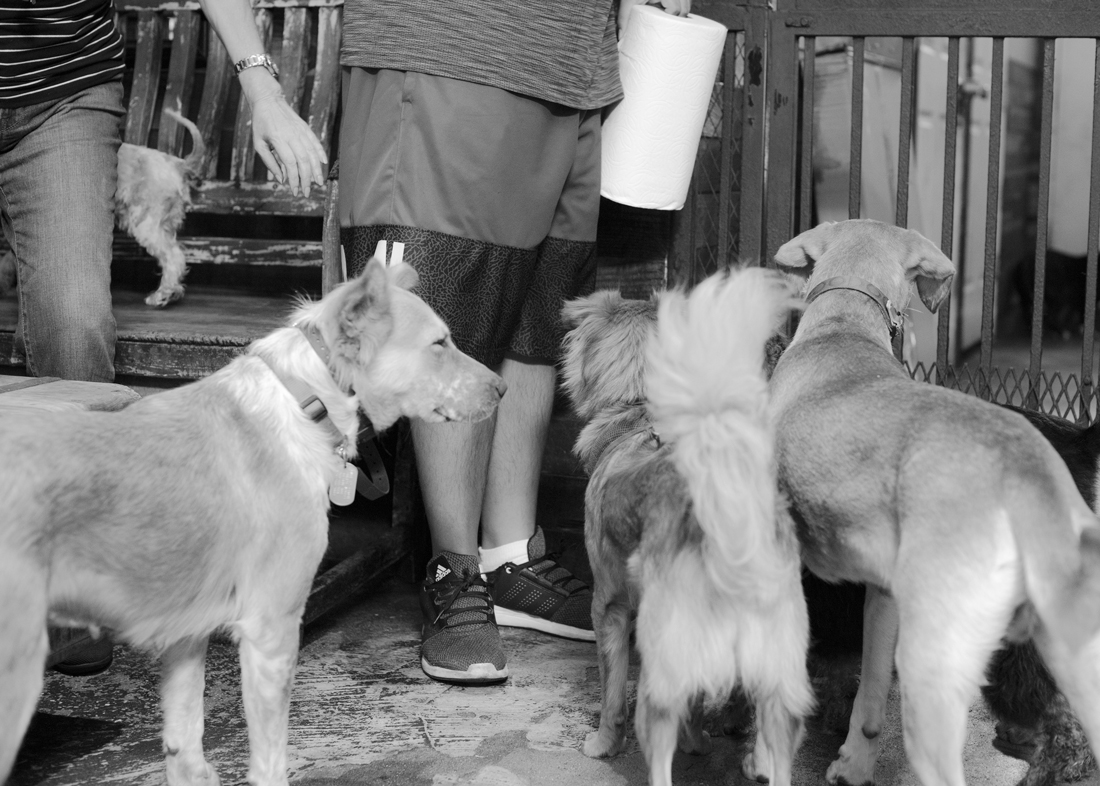 I love this profile by Tony Rettman, with photos by Nathanael Turner (who shot a kindhearted Ric on a rainy day in West Covina). We often tell stories of unknown or elusive artists and designers behind iconic cultural images and movements, and this is one of them.
Best known for his Suicidal Tendencies designs, artist and musician Ric Clayton aka RxCx's body of work is a reflection of his colorful West Coast upbringing: a melting pot of Venice from the early Dogtown days, to the coastal hub's punk, metal, gang, and graffiti subcultures. Ric is the dude behind the Suicidal Tendencies S/T album cover handstyle and all the super rare hand-drawn shirts featured on it—his art was also featured on all the first Dogtown decks.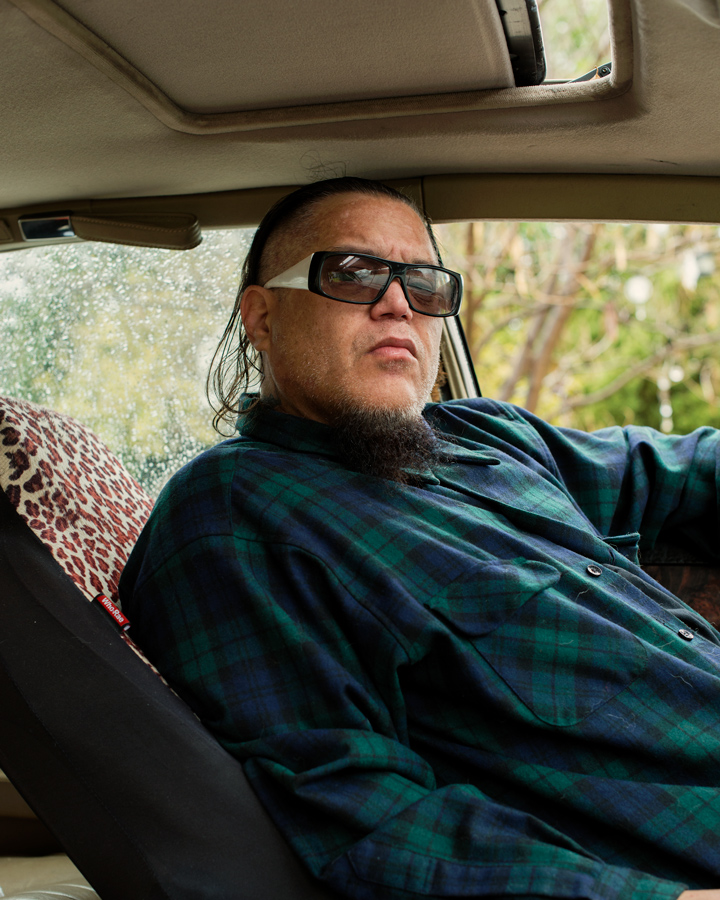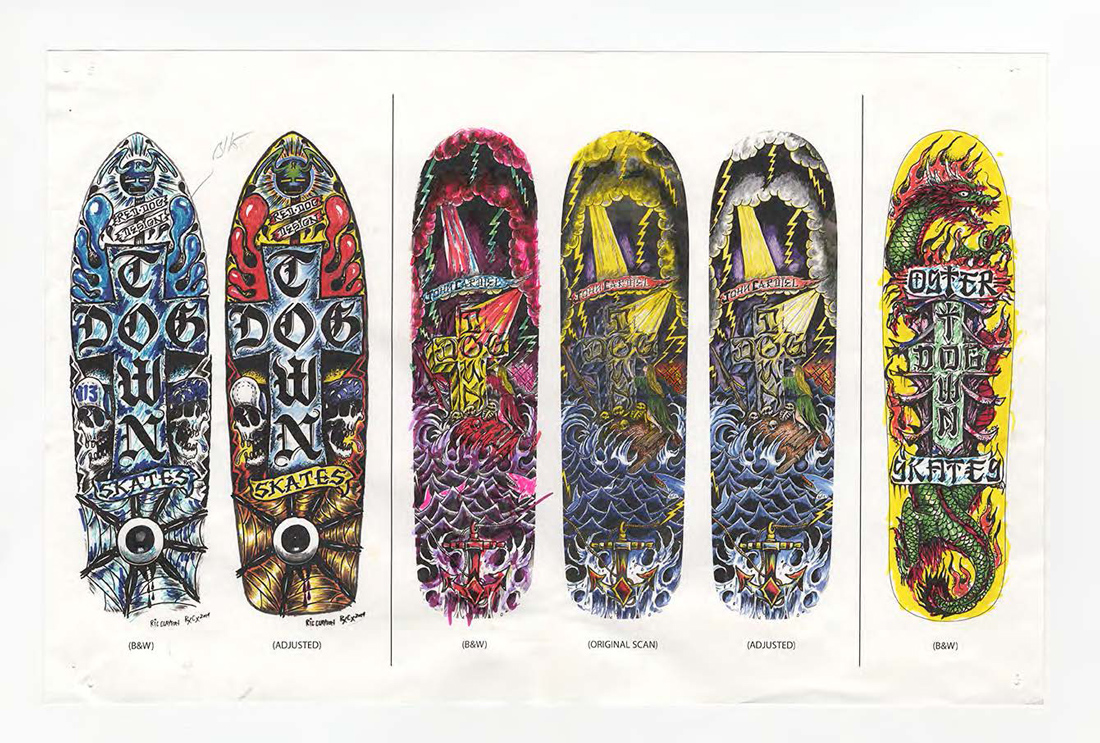 I love this interview writer Leland Ware did with Scarr Pimentel, who's quietly serving some of NYC's best slices at his spot Scarr's Pizza. This is a dude who mills his own flour for his pizza dough and refuses to advertise it, and who is a staunch believer in the wholehearted hard work it takes to make the best product possible. He worked for 2 decades at some of New York's most famous pizzerias like Emilio's, Lombardi's, L'asso, and more, before he opened his own joint, which is a popular dig for locals like the Stray Rats crew and a few our our writers like Leland himself and Pete Pabon.
NYC photographer Sammy Glucksman aka SDJ took some portraits of Scarr for the story, which got some gasps in the office when we received them. They're wonderful.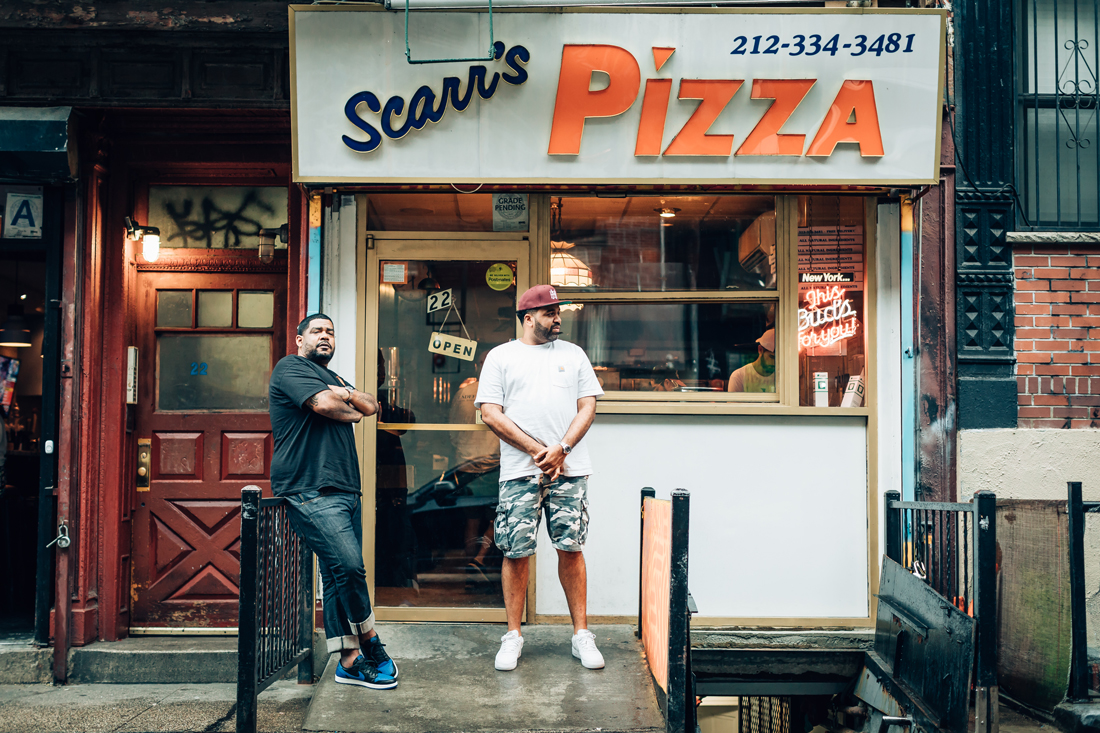 "The camera's just an extension of my body. That's what I do."
I really enjoyed this conversation between super-talented writer Torii MacAdams and Chi Modu, the photographer behind some of the most iconic images in hip-hop history, especially because both Torii and Chi have strong respective work that lives and moves in, celebrates, and deeply examines that rich world of music. Chi asks the first question. Torii caught up with the photojournalist & hip-hop documentarian at HVW8 Gallery where his UNCATEGORIZED exhibit was on full display, and we were able to reunite with Joshua Zucker, who shot portraits of Chi.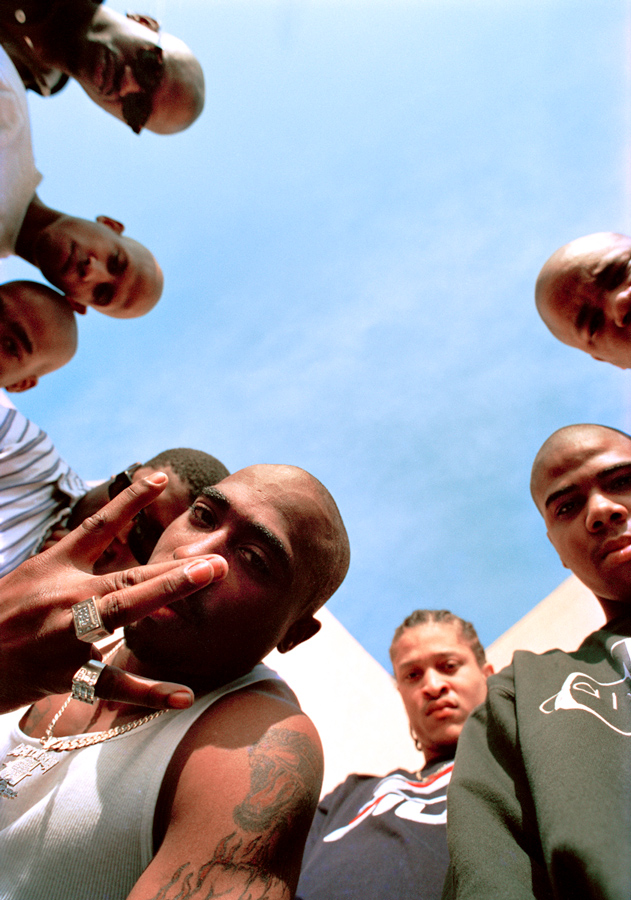 Mister Cartoon. Undisputed LA OG. Need I say more? His globally recognized work is an iconic representation of OG Los Angeles culture, from fine line black and grey prison tattoo, to Chicano, Pachuco, and lowrider culture. Bobby chops it up with the LA legend in this inspiring interview.
Cartoon always keeps it real and even curated his 6 favorite lowrider jams for us. He runs this thing called Soul Sundaes with his wife and it's super endearing.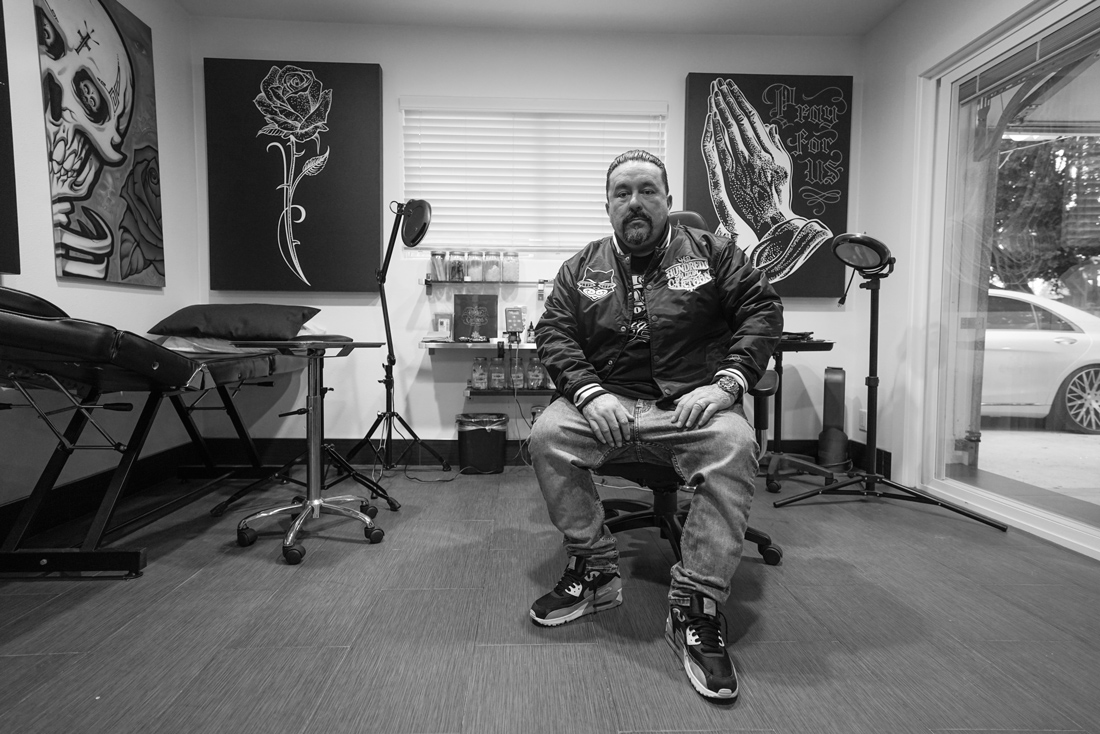 An absolutely fucking magical personal essay by Yasi Salek that gave me all the goosebumps. I was over the moon with this piece, and so was Kara Lane, superwoman and marketing director at Amoeba.
If you love music, you will love this essay.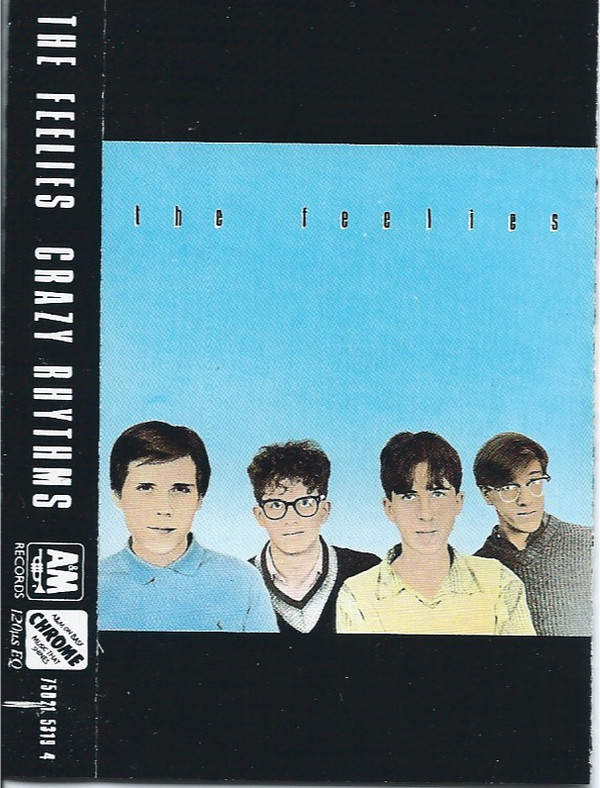 Killer photography from David Rivera + a beautiful interview by Tara Aquino. A conversation with an undefeated lightweight boxer with a heart of gold named Junebug, fueled by the love of his father and coach. Shout out to coach David, who connected us with the gym where the shoot took place, and was gracious, generous, and full of class throughout the interview process.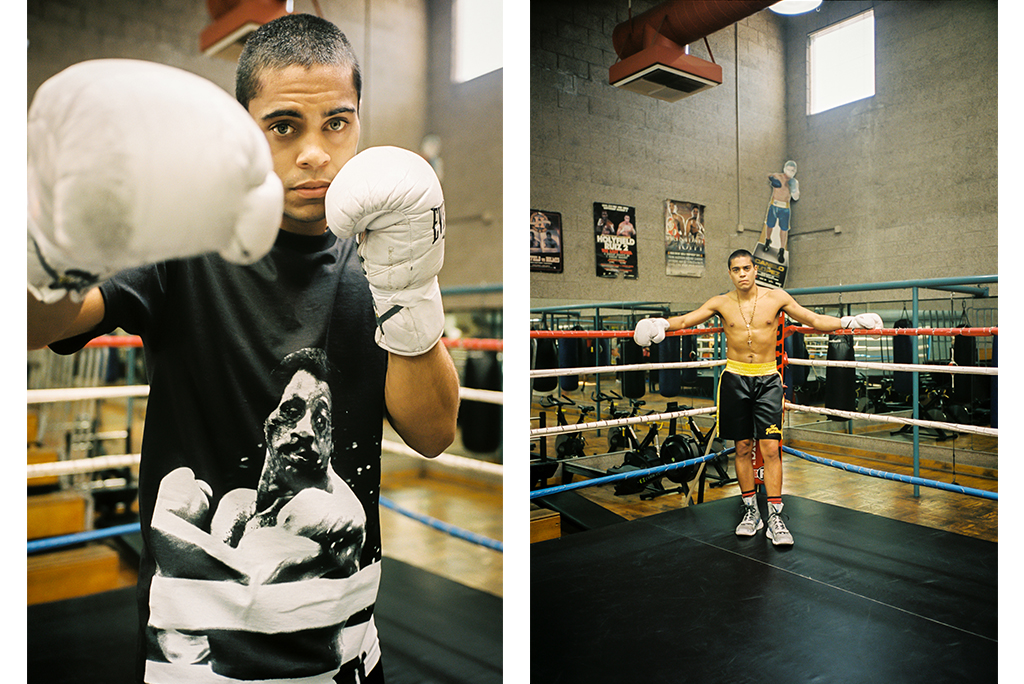 "Our retail mantra is that we don't build stores. We build stories."
All of the rich backstory behind POST, The Hundreds' San Francisco retail concept, in Bobby's words, rounded out with a beautiful video documentary right before the store's closing.
"Back at The Hundreds LA, I designed an art installation with two graves outside the store. Skulls and bones and cultural artifacts. They symbolized Ben and I and that our souls were invested in the space. The Hundreds was a total reflection of our lives. We ran with that, multiplying the skulls all over the San Francisco shop. Now, the store wasn't just representative of Ben and I, but our entire community. The Hundreds wasn't just our brand, but everyone's."
Part 2 of the same mini-docuseries above, focusing on RSWD, our Los Angeles flagship concept, with a moving personal essay from Bobby about The Hundreds' birth and evolution on LA's famed Fairfax block. He opens the essay with:
"I mean… this is home.
We grew up here and you did too.
Look, I don't know how much Fairfax had to do with where streetwear is at today, but this neighborhood brought us together. Fairfax gave our clothing a community."
"Witnessing failure, witnessing the spectacular degree to which humans (and coyotes) can fail, is culturally important." Devin O'Neill, again my colleague and branding band-mate of sorts wrote this piece when we were preparing for our The Hundreds X Looney Tunes Acme collaboration. It's a meditation on the Acme brand and human fallibility. It's a nourishing read.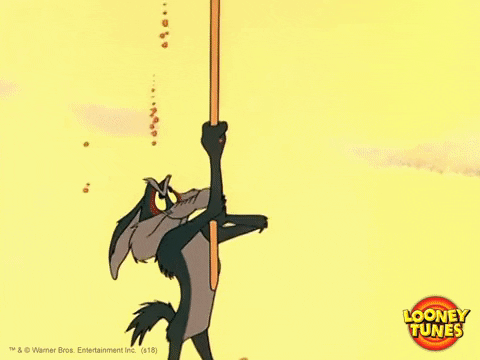 The Hundreds HQ's resident wizard, Oldie aka Old Man aka Nick Miller penned his first essay on our site with this horror story about a once-in-a-lifetime chance to procure a buttload of Bitcoin—a dreamy idea that his baby momma casually swatted away like a fruit fly. Need I say more? Always unexpected & effervescent, Old Man is a comic gem, and I was stoked to feature his voice on our blog.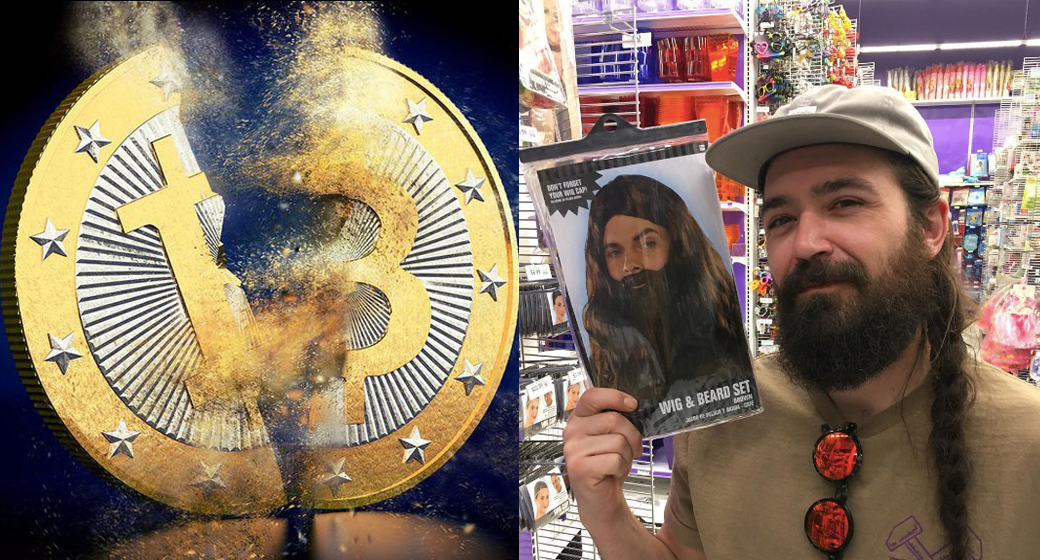 One of our most popular articles from 2018—a branding & business guide by Devin O'Neill considering Nipsey Hussle's singular approach that's led to his illustrious come up.
Find out how Nipsey Nipsey is building a foundation that will outlast the highs and lows of both internet fame and music stardom, and how he's putting all his energy into creating the best cultural experience possible for his fans. In it for the long game.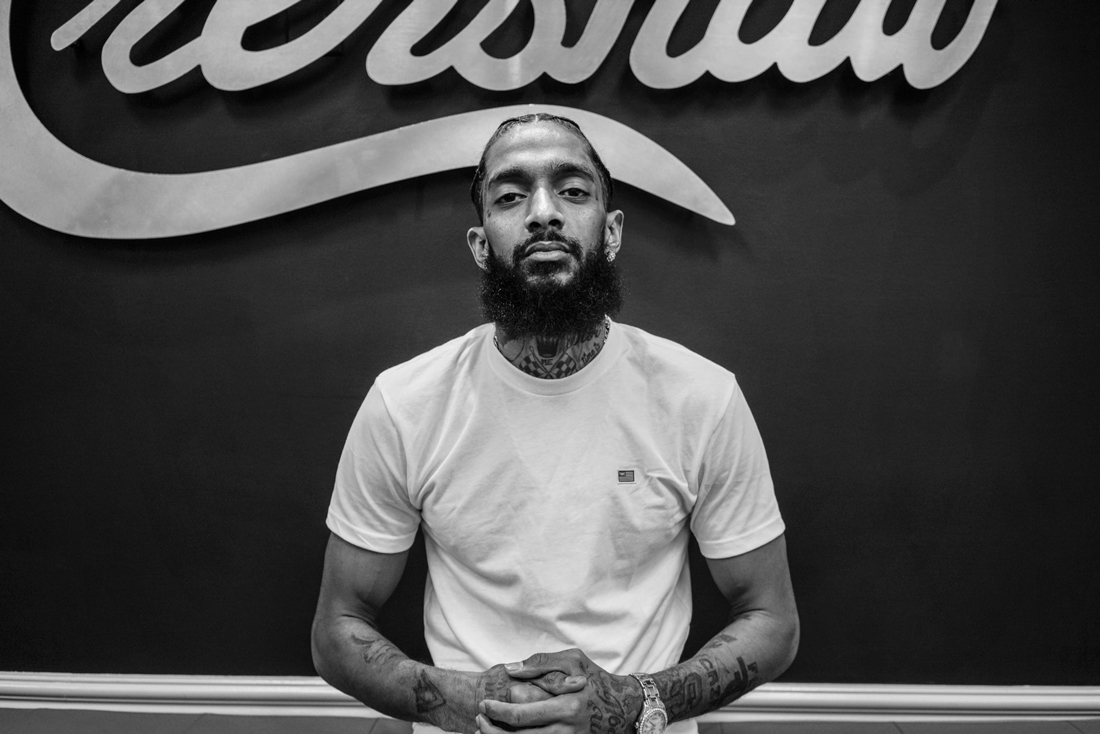 The story of how LAPD tension led a 20-year-old pioneering punk promoter named Stuart Swezey to throw a series of DIY desert shows featuring Minutemen, Sonic Youth, and Einstürzende Neubauten, and more. Definitely a huge precursor to Burning Man, Coachella, and destination desert festivals of the like—except punk as fuck. Swezey even did a show series on a rented ship, which is insane. A blast from the past on a lightning in a bottle moment in SoCal punk, written and covered with care by writer Tony Rettman.
Keep up with Swezey's documentary about it all at desolationcenter.com.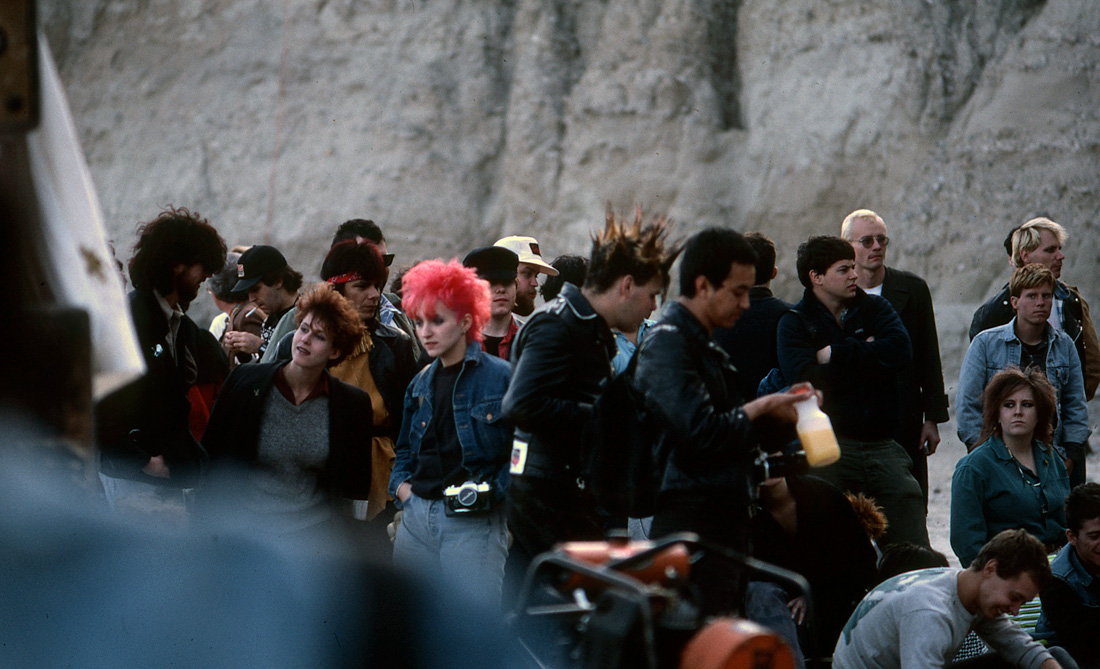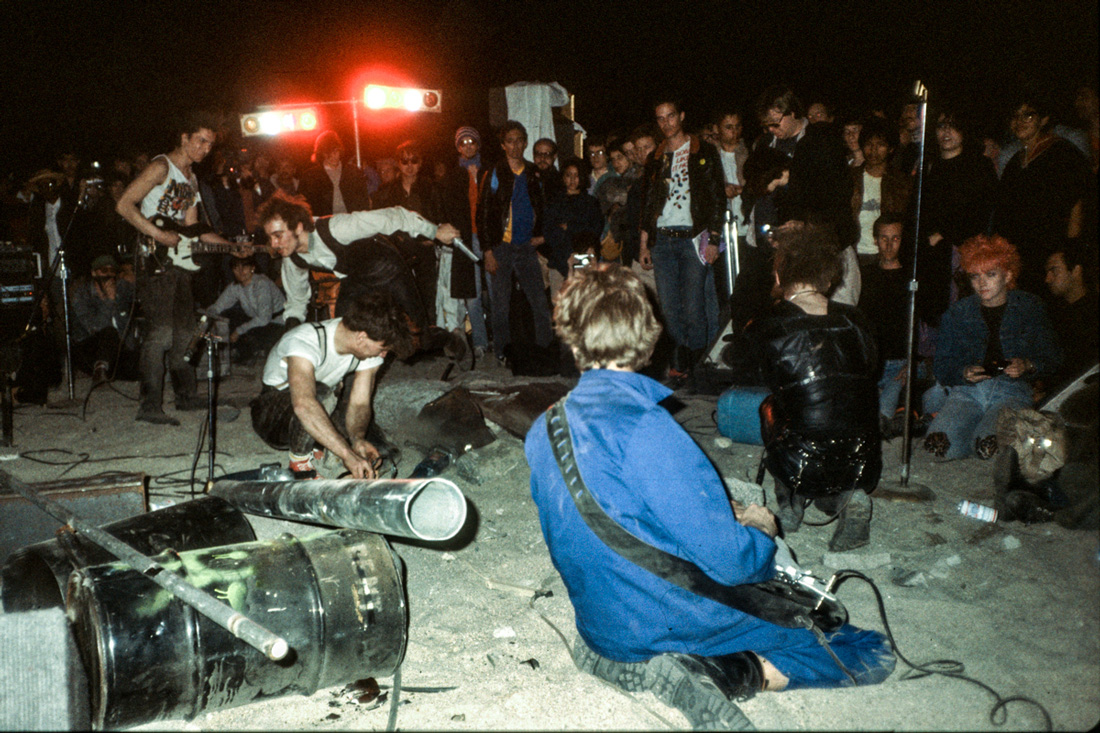 Writer Mike Steyels traveled through Asia this past year and introduced us to the work of Eunpyon, an artist whose work distinctly reflects the culture of the sprawling urban city she calls home. "People always ask me why [my characters are] always sweating," says Eunpyon. "It's because the Philippines is hot! If you want to look good, you gotta sacrifice your comfort." I was touched by how Mike was able to tap into how Eunpyon's art is a beautiful reflection of her aspirations, as well as her home.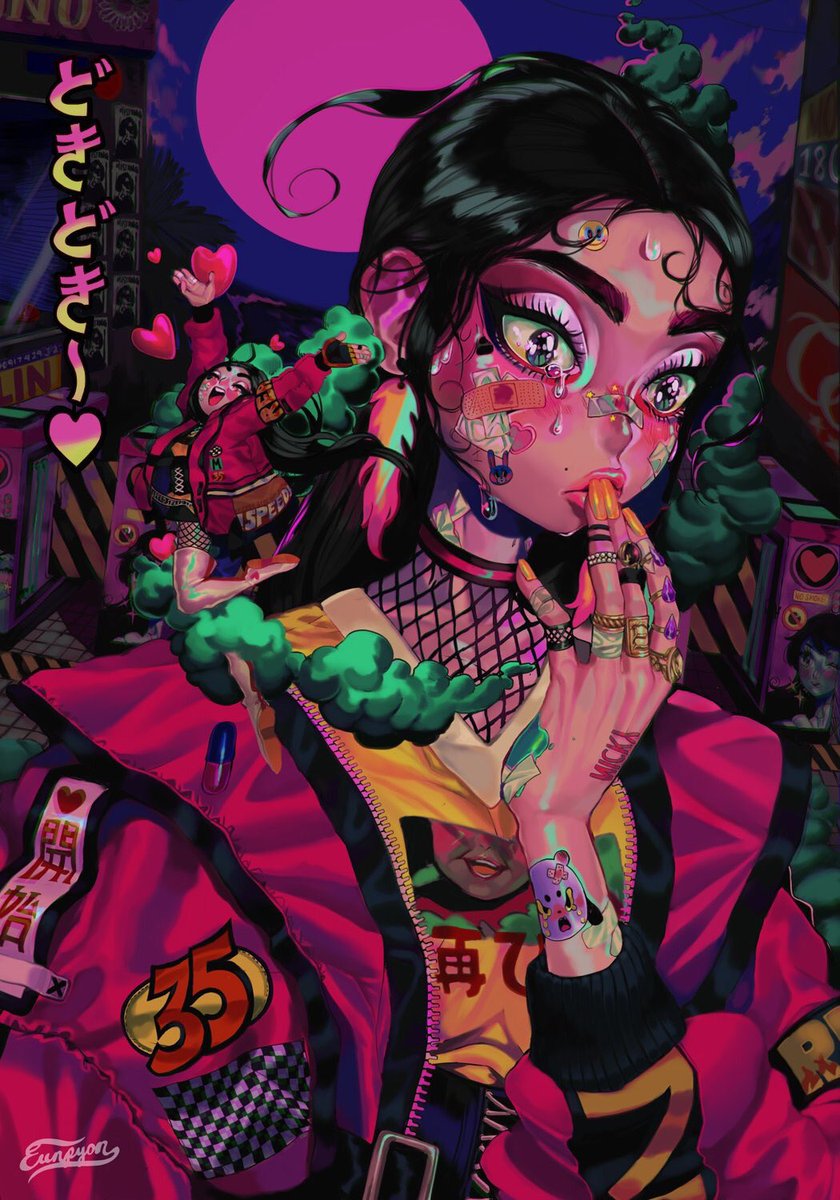 I love this interview I did with the brothers behind Badmaash!!, the Fairfax block's coolest, forward-thinking new Indian restaurant, born from the culinary memories of a Punjabi immigrant and his street culture-raised children. It's not fusion, it's something new entirely: an intergenerational life story. This family is breaking new culinary ground on multiple levels, and the two brothers Nakul and Arjun just happen to be fucking hilarious. The piece was complete with wonderful portraits by Nathanael Turner.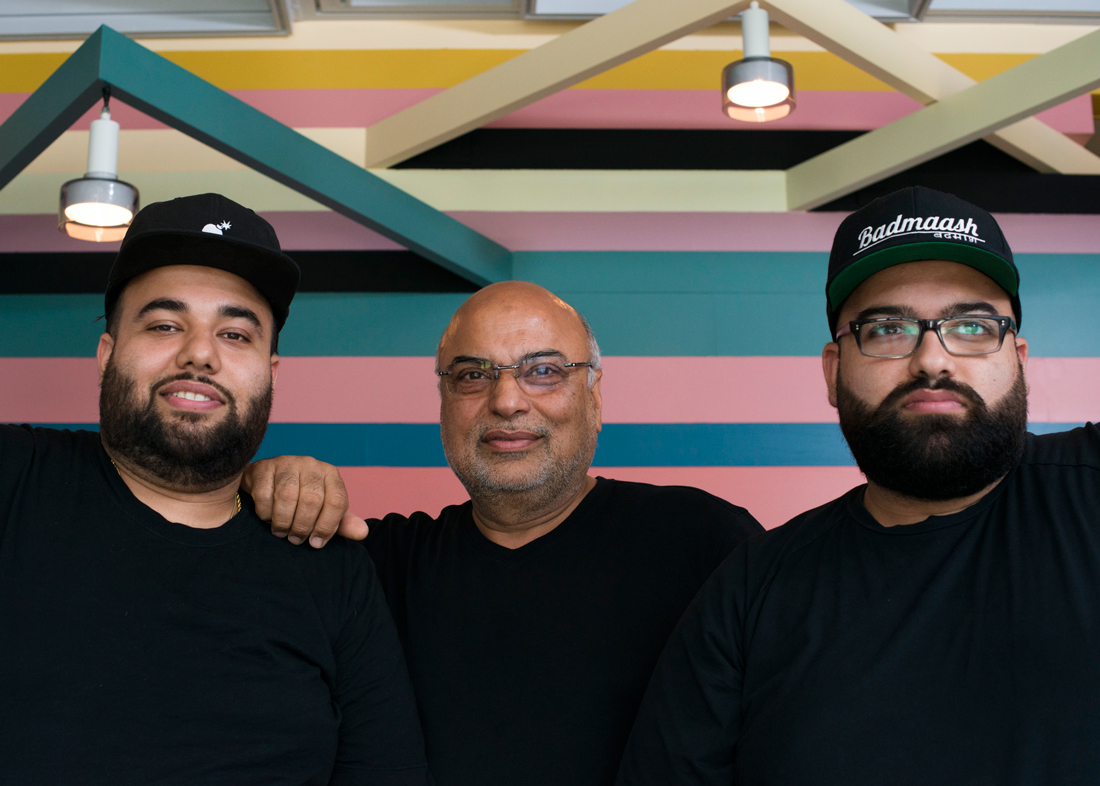 Oakland-raised, LA-based internet famous scammer-turned-rapper Guapdad 4000 explains the proper way to worship the god Mac Dre and how his durags give him special powers in this super fun Q&A by Torii MacAdams.
Fun fact: Guap has quite a few "interns" who are special and kind and served as liaisons between Guap and us as we set up this interview. Hilariously, the first time we sent over questions, the interns sent over 10+ giant video files of Guap answering all the questions on selfie cam, vlog-style. They were so good and golden that I uploaded them to Vimeo to include them in the published story.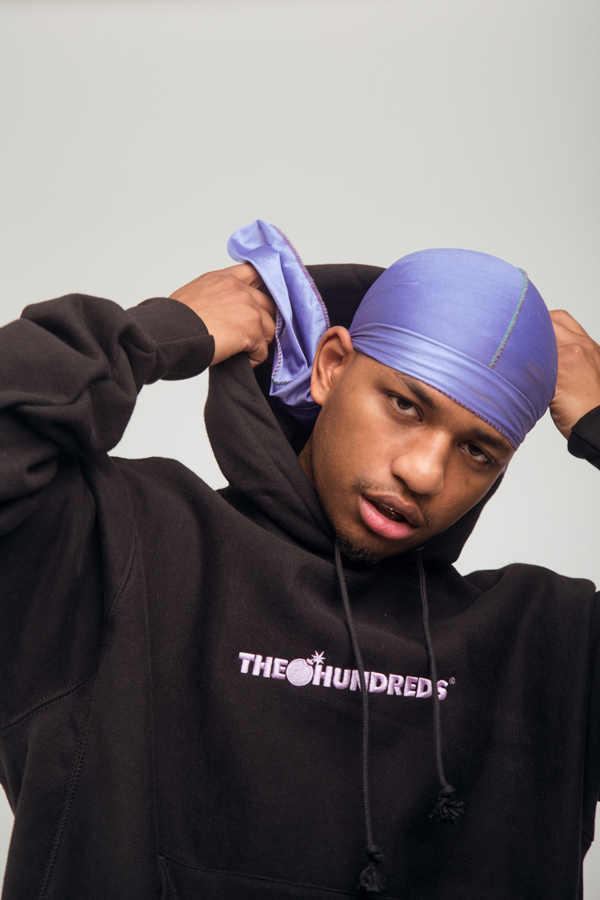 "There's only one thing that's unique to film, and that's editing." -Stanley Kubrick.
An essay by Devin O'Neill that coincided with our 2001: A Space Odyssey collaboration—a piece that explores ideas about humanity and progress that I think we both believe in wholeheartedly. Considering the monolith as a screen and of Kubrick's idea of editing as a tool we can use in our lives. "Maybe someday we'll be able to see ourselves as Kubrick and Clarke saw us," writes Devin, "As playful children, bound for the stars."
The story of how a 19-year-old kid with big dreams opened his first skate shop in '97 while working at a glass factory and started a skate retail institution with homegrown roots. Today, Pharmacy Boardshop is a thriving multi-store skate shop operation. Writer Leland Ware dove deep, interviewed the founder Donny Damron and brand manager Cory Bosacki, and learned their little-known inspirational origin story.
I love stories like this because of the rich throwback imagery, and how much heart guys like Donny and Cory have. They've kept it all in the family, with friends running out-of-state shops, and former skaters now high-level managers in the company. Cory was unforgettably helpful during the process of gathering imagery for the story, and you should all check out his brand @milksaggers, they make crazy bootleg skate action figures.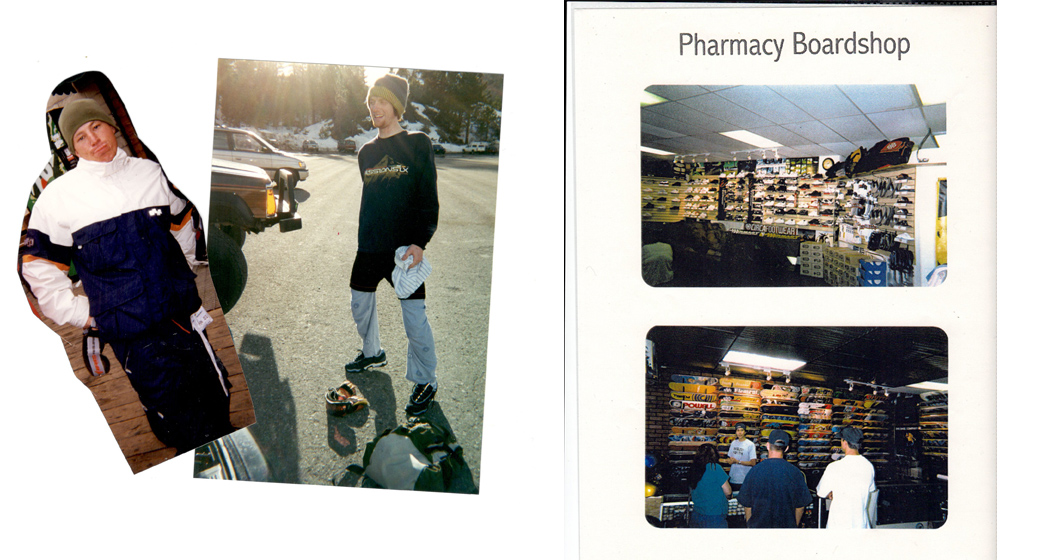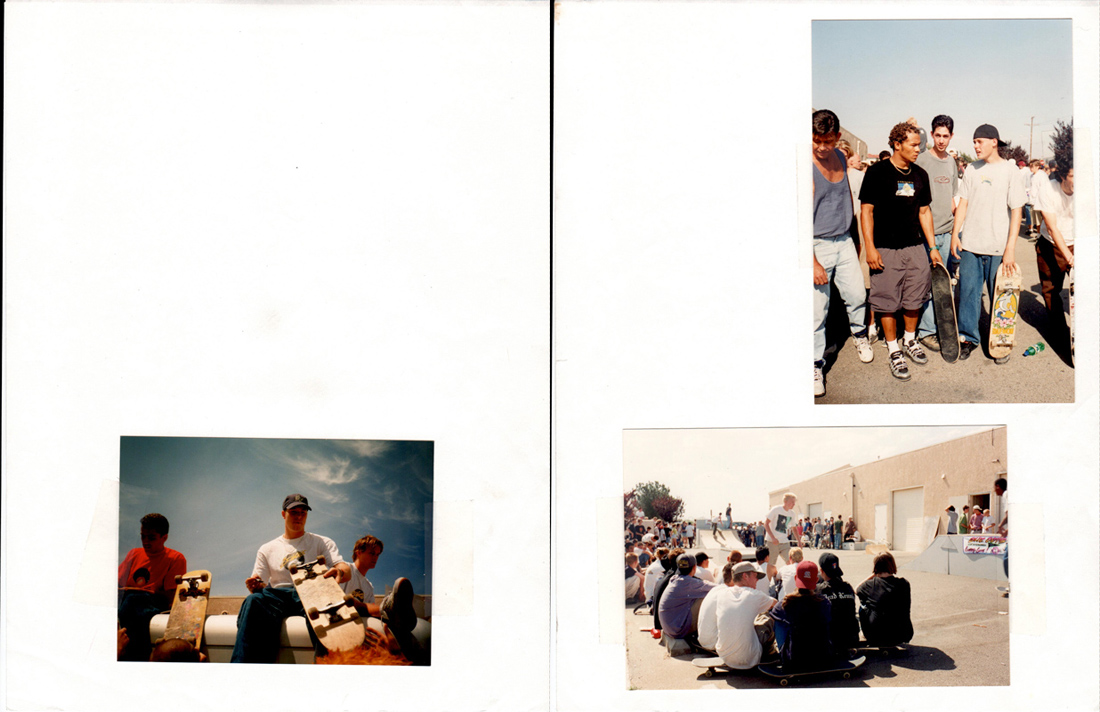 A powerful examination by Chicago native and one of our favorite writers Alec Banks on how the best brands in streetwear and the best boxers have much more in common than you think, from ringmanship to the underdogs. We published this right around the time we dropped our The Hundreds X Rocky collab and it was perfect timing.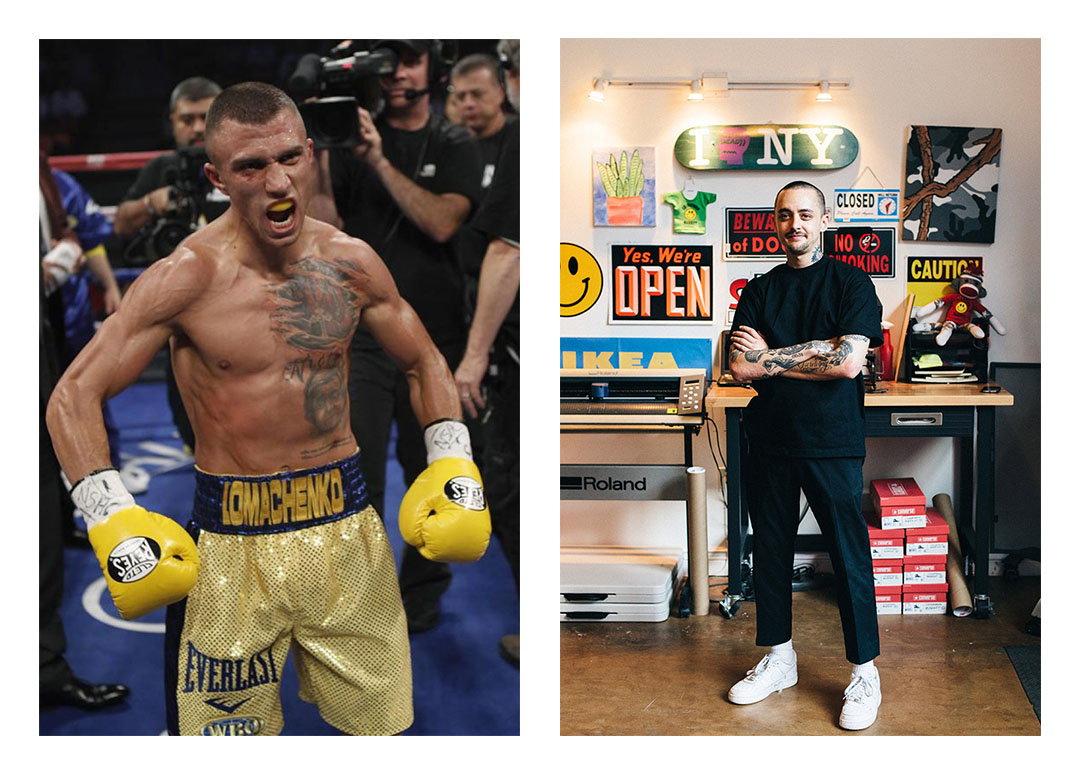 This just happened to be Anthony Pappalardo's second interview for us this year that revealed a little known artist or designer behind a major cultural movement. In it, he talks to elusive creative Billy Sidebyside, who is the artist behind the iconic gorilla in a Champion hoodie gracing Gorilla Biscuits' legendary first EP. Amazing and RARE archival scans from Anthony himself round out this story, taken directly at the Revelation Records HQ I believe.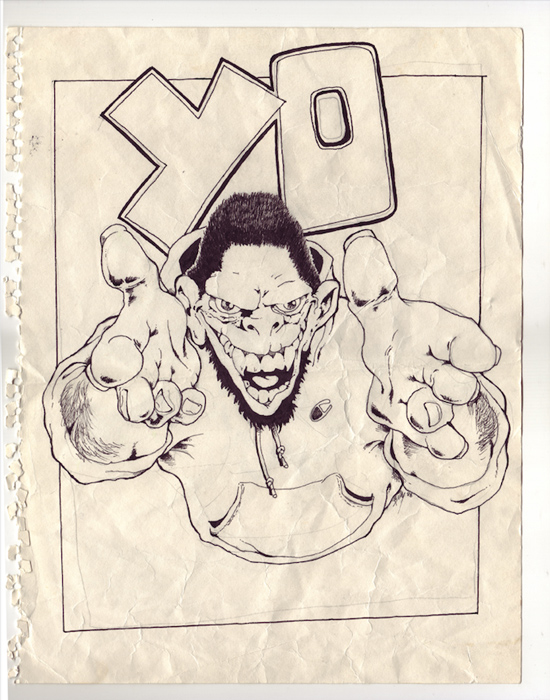 During his Asia tour, writer Mike Steyels spent a great amount of time deep diving into the community behind Malaysia's burgeoning graffiti scene in Kuala Lumpur. The story is transportive and full of colorful characters from various crews, complete with photos from Razlan Yusof. The camaraderie between the guys and Mike is palpable—a true passion project of an article.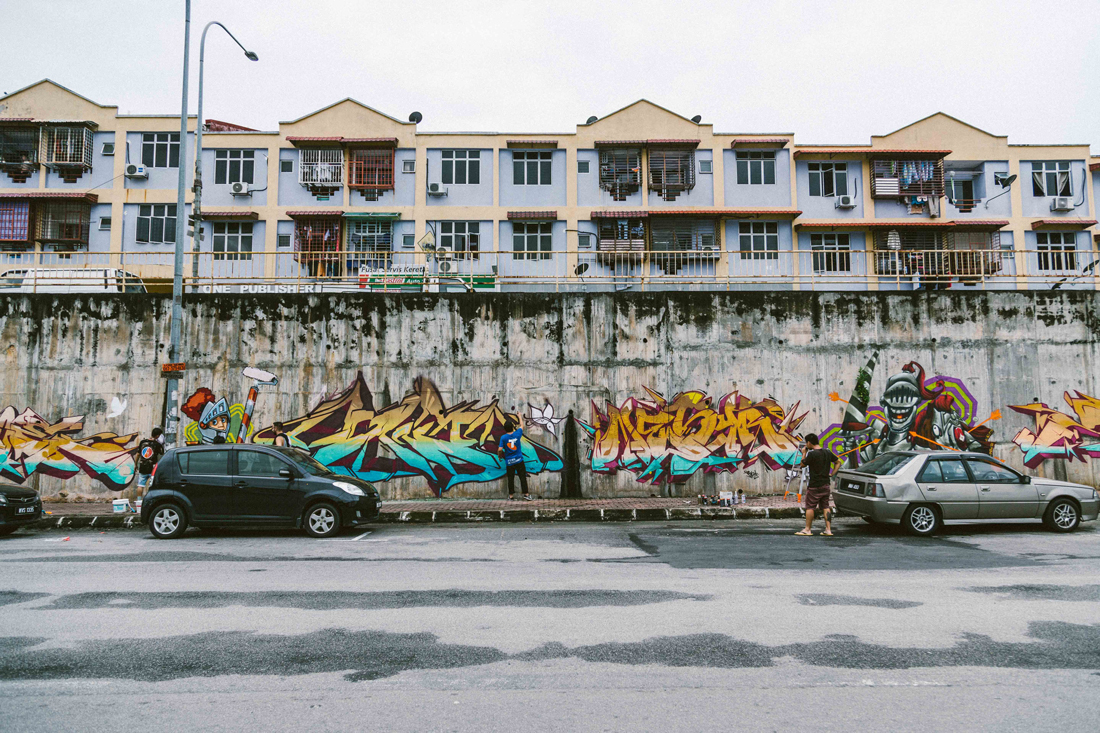 ***