Anyone involved in the indie/punk/DIY scene here in LA has a story about The Smell. I remember feeling completely batshit ecstatic when Thurston Moore waved at me years ago when I was in line for their smelly graffiti-covered bathroom. My friend Doug and I saw Karl Blau there during his Zebra tour, and even though the place was only a quarter-full, it was one of the best shows of my life.
Similarly, anyone who's been there has a story about Daniel. Altamont even made a shirt with him on it. Danny is as much of a living fixture to The Smell itself as the venue is to LA's music scene. For those of you outside of Los Angeles, The Smell is the go-to all-ages community-oriented space that has birthed and housed tours for almost all relevant punk/experimental/DIY bands in LA and elsewhere. They always keep the prices right and the music weird-and good. Because of its strict no-alcohol policy, the venue has always been strictly about the music. Daniel Wright-Fresco, known to showgoers as "Daniel" or "Danny", is the 40-something homeless man that donned an unofficial protector of the people role for patrons of the venue, though I'm not sure when he started doing it. Most know him as the guy that yells, "EVERYBODY STAND CLEAR," every time a car drives by the narrow alleyway entrance next to the dumpster.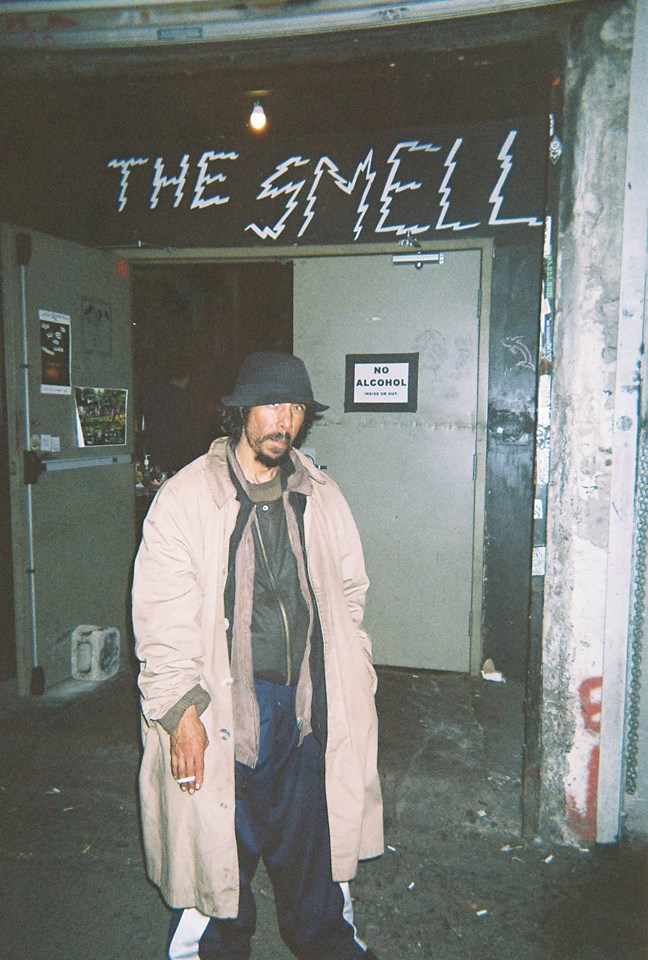 Photo by Sean Solomon
He walked me and my friends to our cars a few times, claiming that he was a cop working undercover and would protect us, since it's so close to Skid Row. This act of kindness, was, of course, usually followed by his requesting what he called a "tip." I remember dwelling on that the first time he said it. He never called it "change"-only tips. It became clear to me that this was work for him. Whether he really considered himself our security guard or whether he was just clever enough to leverage the position-this form of employment-doesn't really matter to me. He never asked for change.
"Once I was at a Monotonics show at The Smell and the band moved their entire drum set in to the center of the room," shares Moses Campbell's frontman Sean Solomon. "Kids were moshing and could have easily smashed their head into a cymbal or guitar, but Daniel came in and put his arms out and blocked kids from falling into the band. No one else would do that. I don't even think you can even legally pay someone to do that. That's why Daniel is the best."
Some have shared that he's always talking about his "company," which he has claimed is run downtown, and that he's always pissed about his "employees." "I always assumed that if he was talking about the company-he never called it anything more specific-he was in a bad mood," says Mike McDowell, who plays bass in the band Arjuna Genome. "He would say that people there were giving him a hard time or not doing their work well. I sometimes wondered if the company was The Smell or simply other bums like Frank [who also frequents The Smell's alley]."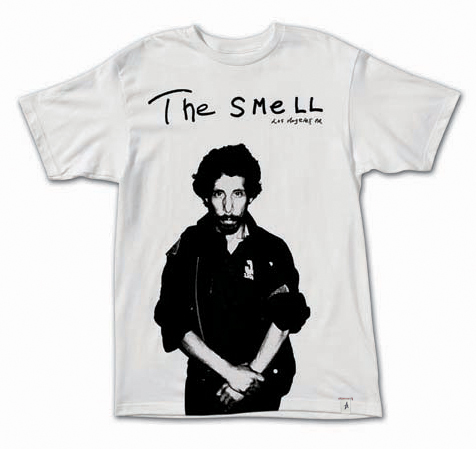 From Altamont.com
Outside of our run-ins with him at The Smell, we didn't really know much about Daniel. Michael Vidal of the band Abe Vigoda said that Daniel "always has these anecdotes that make him seem like a warrior or something." He shared a story with Vidal about a hyena he rescued from the desert and apparently would delight in telling people that it was, in fact, a hyena when people asked him if it was a dog. He told Arjuna Genome's frontman Douglas Sweeney that he was once "swallowed by a whale" when he "went swimming," but never told him how he got out. Others have referred to a knife that Daniel sometimes brandishes-of these people, all have mentioned that he revealed the knife to them with the intention of showing that he's capable of protecting if the situation ever arose (or lightheartedly).
Knowing all this, when I read earlier last week from LA Weekly that he'd been arrested recently after a stand-off with the owner of a nearby used car dealership, I was shocked, but I wasn't surprised. When Daniel was confronted by the man after he had escorted a woman to her car, he allegedly "opened his shirt, revealing a knife tucked into the waist of his pants." It sounded like he was extending his "services" at The Smell to this dealership-and who knows if his walking this woman to her car surprised or even frightened her. Police arrested him shortly after for "criminal threats." That's a felony here in California.
A quick readthrough of comments on the LA Weekly article and on The Smell's Facebook reveal an almost unanimous reaction of support, with the rise of the hashtag #FREEDANIEL from the venue's community. "I feel as if he had to construct this persona in order to survive on the streets," says Vidal, "but anyone who has seen his annual birthday performance at The Smell will tell you-the guy is super sensitive. I've known Daniel for a decade now and all I can say is that the man is consistent and really does mean well." Jim Smith, the owner of the venue says, "I would just say that pretty much everyone who knows Daniel realizes that, although he may have his issues, he is well-intentioned, and only seeks to be helpful to others, and is basically harmless."
Daniel had his hearing yesterday, according to The Smell's FB. They posted, "We are also still looking for someone to offer him pro bono legal assistance. We have looked into the possibility of raising money to pay for an attorney, but it is looking less and less realistic, given the cost and short time frame." I hope Daniel gets the help that he needs. Because The Smell needs him.
Looking through #FREEDANIEL posts on Twitter, I think @BGFCentral put it best:
"The thing he does, it's a good thing."