With a social media world still reeling from the Beck/Kanye fiasco at this weekend's Grammys - and perhaps to outshine the attention surrounding rival Kendrick Lamar's single drop "The Blacker the Berry" - Toronto's Drake just shocked us all with a surprise release. Via Twitter, he announced the 7 track mixtape appropriately titled, If You're Reading This, It's Too Late. Having already this morning released a short film named Jungle (which also happens to be a track on his new mixtape), many see this as a sign by the young Canadian of taking a leaf out of Beyonc'e's book, after the social media blitzkrieg reaction to her surprise release Beyonc'e. The tracklist is filled with minimal production by Noah "40" Shebib and guest features Travis Scott, an embattled Lil Wayne, and PARTYNEXTDOOR. Starting the year off, Drake flexes his business acumen by bringing the conversation right back on him as he prepares for major headlining gigs at Coachella and Bonnaroo.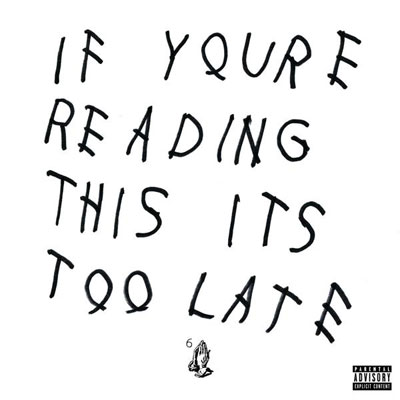 If You're Reading This, It's Too Late
01 "Legend"
02 "Energy"
03 "10 Bands"
04 "Know Yourself"
05 "No Tellin'"
06 "Madonna"
07 "6 God"
08 "Star67"
09 "Preach (ft. PARTYNEXTDOOR)"
10 "Wednesday Night Interlude"
11 "Used To (ft. Lil Wayne)"
12 "6 Man"
13 "Now & Forever"
14 "Company (ft. Travi$ Scott)"
15 "You & The 6"
16 "Jungle
17 "6PM in New York"
Originally thought to be a whole album of its own, it appears that If You're Reading This, It's Too Late is instead a wise promotional vehicle filled with songs that won't be making it onto Drake's much-anticipated summer release View from the 6. The initial link was pulled from his Twitter account shortly after his posting. Those too late to the party can find solace in the album being inserted onto Itunes now via Cash Money Records (possibly one of the last releases on the label??)
Click HERE to listen.